Dec
14
Fri
2018
Sport Inspires Lunch @ Waterfront Hall Belfast
Dec 14 all-day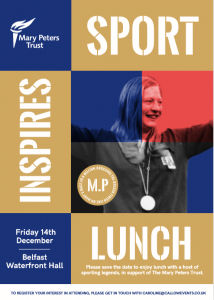 The annual event at the Waterfront Hall in Belfast, celebrates the work of the Mary Peters Trust and Sport Changes Life.
The gala occasion included guests from the worlds of boxing, motor racing and football.
Actor and big Coleraine fan James Nesbitt hosted last years event.
Dame Mary Peters, who has headed her trust for over 40 years, said she was proud of what it had achieved.
"Young people want to emulate our sportsmen and women and we hope we've inspired them to get involved. Success breeds success," she said.
Jonathan Rea, who won the Mary Peters Trust International Recognition Award, said he was in awe of the stars who had turned out, despite his own achievements.