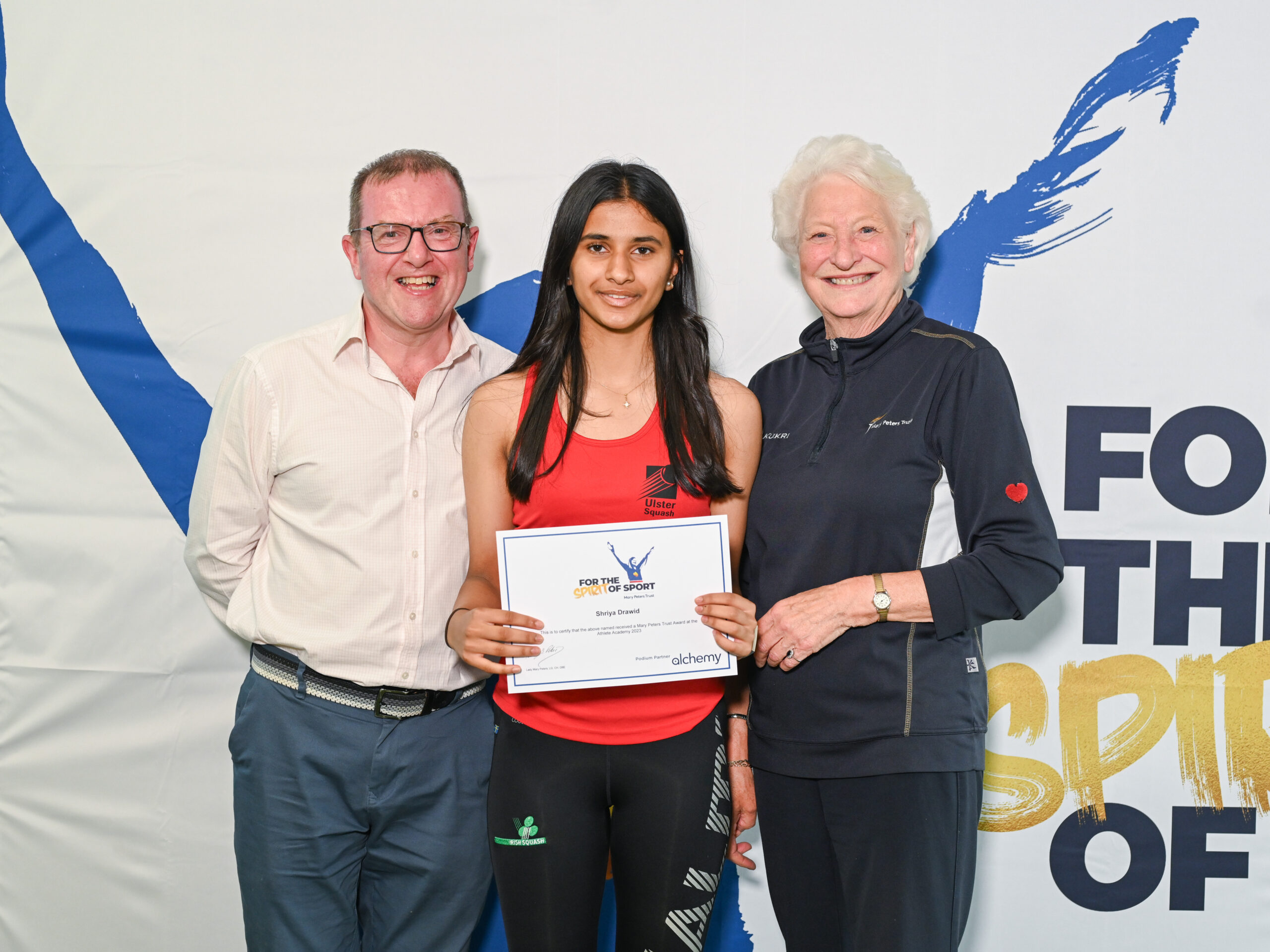 Mary Peters Trust athlete
Year 11 at Methodist College Belfast studying GCSEs
Achievement I'm most proud of
being a 2x Irish National champion in 2022 and 2023 (U15 level)
What is your current goal
retain my position as the Irish No1 and make an impact at upcoming European tournaments.
Squash ace Shriya knows she can push through barriers to achieve key goals

With the announcement by the International Olympic Committee in October 2023 that squash will be one of five new sports featuring in the 2028 LA Olympics, Belfast girl Shriya Drawid has a huge goal to aim for.
"It's been a long time coming but it's amazing that squash is now an Olympic sport after so many attempts by the World Squash Federation," says Shriya, "To compete in an Olympic arena would be my ultimate dream."
By 2028 the Methodist College student will only be 20 and when Brisbane 2032 comes around Shriya will be a mere 24 so big goals can be achieved.
"I know I can push through barriers and even though I've had downs as well as ups, the highs are just so high that all the hard work and training is totally worth it."
It was Shriya's brother Rohan who inspired her to take up squash. He's now 22 and studying medicine in Liverpool, plays cricket for his university and keeps up his squash in his spare time. 
"Before he left for uni, Rohan played cricket at NCU (National Cricket Union) level and competed in squash for the Belfast Boat Club. Along with mum and dad I was always around squash and squash players, watching Rohan compete and experiencing the vibe. I just loved it and wanted to be part of that world.
"When I was eight, I joined the junior section of Belfast Boat Club, then took private lessons and trained very hard. By age 10 I was playing in U13 as well as U11 tournaments and at that stage I realised I was good at squash. It gave me the impetus to really push forward."
Shriya's proudest moments to date are securing two consecutive Irish National Championships in 2022 and 2023 at U15 level. On 15th October 2023 she officially moved up to U17 level and celebrated her birthday and the move up with a competition win at Belfast Boat Club. 
"My current aim is to retain my position as the Irish Number One singles player and I have until May 2024 to make sure I do that."
Shriya trains six days a week at Belfast Boat Club, usually in the afternoons after school. She plays league games in Division 1 and is part of the Boat Club's premier team. She plays individually and not in any doubles partnerships. Shriya also represents her school Methodist College in inter-school tournaments and as if that's not enough, she also plays netball at school. 
"I love being part of the Belfast Boat Club. I've watched our senior players for many years, and everyone is very supportive of me and my squash career. My club colleagues are always cheering me on at tournaments and they help me improve by providing lots of match practice."
Shriya's number one fans are of course her mum, dad and brother Rohan. "My mum and dad travel with me to all the tournaments which is brilliant. That's also how the Mary Peters Trust has helped me. As well as competitions throughout Ireland I play all over Europe including in Germany, Holland and Czechia as well as England and Portugal. 
"It's wonderful knowing that the Mary Peters Trust believes in me and provides support. It's also lovely to meet some of the other athletes at MPT 'Academy' events. One of my fellow MPT athletes is the hockey player Erin Pim who is in the year above me at school. Methody is very supportive of its athletes. They share our successes on school social media and the website. I'm also very grateful to school as it allows me to work round tournaments and teachers help me keep up with my academic studies and exams so that I'm not missing out."
In terms of her future academic career Shriya wants to follow in her brother's footsteps and study medicine. She knows it will involve a lot of hard work but is determined to manage academia and sport in a balanced and positive way. 
"I would love to study at a uni which has a big focus on squash – probably in England or in Scotland. That's a few years down the line, so for now it's heads down and making sure I concentrate on my GCSEs which I'll sit in Summer 2024, and just keeping on improving my game of squash."
When asked what she loves about squash, Shriya is quick to reply that it's a combination of the physical and mental side of the sport as well as the variety it offers. "I love the high-speed element of squash, but you also hit slow shots and I love the mixture of technique and approaches."
Providing Shriya with advice on technique and approach is her coach, Josh McVeigh. As well as being Shriya's personal coach he also trains the Irish U15 team of which Shriya was part of until she turned 15. "In addition to his technical guidance at competitions Josh's most memorable words of wisdom to me are, 
'Keep your head up and keep going.'
It's what I constantly aim to do.'