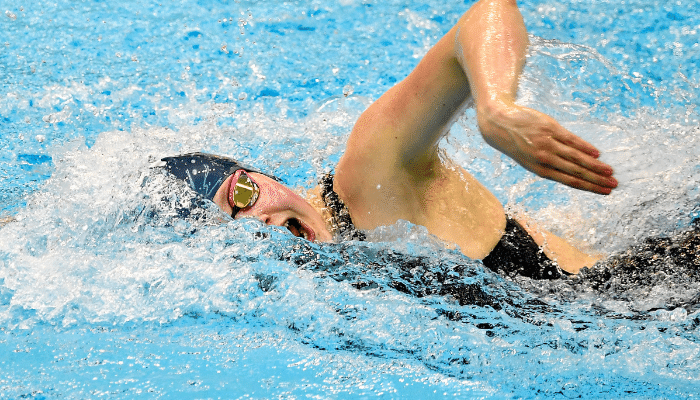 Mary Peters Trust athlete: since 2018
From wheelchair to European Juniors, Ellie has weathered the storm to reach calm waters
It's been a rollercoaster five years for A Level student Ellie McKibbin who hails from Bangor. A competitive swimmer she experienced a life changing injury in 2017, followed by the global pandemic both impacting hugely on her training and recovery. But the Glenlola Collegiate student has come a long way and now has her sights set on competing in the upcoming Commonwealth Games hosted by the city of Birmingham during August 2022.
"I've been swimming since I was three and it's such a key part of my life that not being in the pool nor competing was unthinkable. Almost five years ago in May I found myself unable to walk. Hypermobility Syndrome it's called and the joints in both my feet were swollen to fracture point. It was a complete shock as I was only 13 at the time and here was I suddenly needing a wheelchair and wearing plaster casts on both feet."
Medics likened the injury impact to running a marathon barefoot and indicated that Ellie would feel pain the rest of her life and would be unlikely to swim again. But Ellie had other ideas and with the help of top coaches Nelson Lindsay and Davy Johnston as well as massive support from her teachers at Glenlola is training hard to achieve the qualification times for the Senior Commonwealths. And that's in addition to studying for this year's A Level exams in Chemistry, Nutrition and Food Science and Health & Social Care.
"My teachers are phenomenal. They really want the best for me and have been so accommodating and flexible fitting work and exams around and alongside my six day pool and gym training schedule. Luckily Glenlola is located right beside the Aurora so I don't have far to go for early morning or after school sessions."
Ellie's recovery has been slow but steady. After plaster casts and then aircast boots she had to learn to walk again and slowly got back to swimming in the pool. It took 12 months before Ellie could resume normal training and two years after the injury she was able to compete on the international arena. In 2019 Ellie qualified for the European Youth Olympics which took place in Azerbaijan and achieved a first reserve place in the semis. "I was thrilled with that achievement, and it was wonderful to be back competing globally in the sport that I love."
The onset of Covid in March 2020 obviously massively impacted on training regimes and like many swimmers Ellie made good use of the paddling pool and bungee ropes technique to maintain 'pool' fitness. She also travelled to Dublin to train in the pool four times a week ahead of the Aurora re-opening to local athletes. All the training paid off as Ellie qualified in April 2021 for the European Junior Championships held near Rome during July 2021.
"Rome was an amazing experience and I really learned so much. Now it's all about focussing on training and preparation for trials in April to achieve my dream place within the NI Commonwealth Games team. I do experience injury flare-ups from time to time but I'm determined to do my best to be part of Birmingham 2022!"
Ellie's words of inspiration: "Work hard, enjoy the journey and control the controllables."