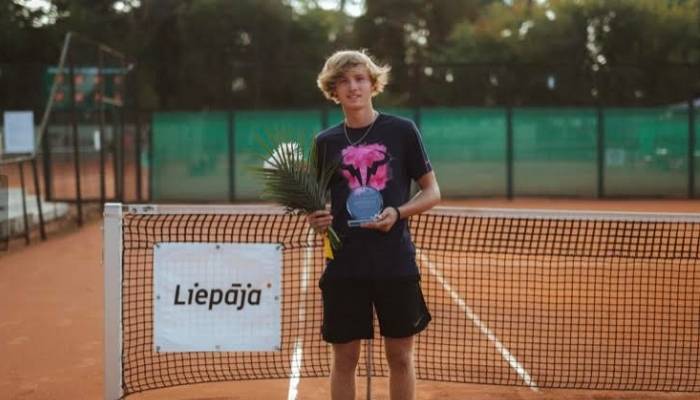 Mary Peters Trust athlete
completed A Levels at Campbell College Belfast and undertaking a 4-year degree and tennis scholarship at the University of North Carolina, Asheville, USA
Achievement I'm most proud of
Winning the 2021 ITF (International Tennis Federation) Junior Grade 3 U18 Liepaja Singles title in Latvia.
What is your current goal
to represent Ireland in the Davis Cup and become a professional tennis player
Famous and feared Nadal forehand is Freddy's inspiration
Whilst tennis Irish Junior Freddy Murray, shares his surname with Scottish favourite Sir Andy, it's Mallorca born Rafael Nadal whom he cites as his sporting icon.
"Growing up I followed Nadal at all the big tournaments and loved his forehand style. I also feel he is a very humble person and just admire everything about him. I've tried to base my tennis game on his.
"One year I did manage to get centre court tickets at Wimbledon – but on that particular day Rafa was on another court – so it's still on my to-do-list to watch him play live. However, I have managed to see other 'tennis greats' compete including Serena Williams."
The Campbell College student has just finished his A Levels which included Maths, Business Studies and PE and incidentally he studied Spanish up to AS level – partly inspired by Nadal as well as a love of the language.
It's going to be a busy time for the David Lloyd and Ozone based player as come August 2022 Freddy embarks on a four-year university tennis scholarship degree at the University of North Carolina, based in Asheville. He secured the Col-Ten (College Tennis) placement in January 2021 and heads to the States later this summer to study Finance and Economics whilst developing and improving his tennis skills.
"I'll be playing tennis for two or three hours every day plus doing an hour's gym training as well as studying for my degree. I'll spend August to May at university and represent my college at tournaments. Each summer from June to August I'll be free to play on the ITF (International Tennis Federation) Futures Tour and hopefully build up my ranking on the professional circuit.
"I've travelled on the junior tennis circuit all over Europe and in America, so I'm well used to the lifestyle and my big ambition is to be able to play tennis professionally and earn a living from it. Dreaming big I would love to compete in the Olympics, but I'm not seeking fame and fortune – just to play the game I've loved since I was five years old."
Freddy's parents encouraged him to join a tennis class at Belfast's David Lloyd centre in Dundonald, East Belfast. From the age of six he has been coached by Paul Taylor at Lloyds – first as part of a group class then via individual coaching when Freddy turned eight. "My coach knows my game inside out and over the past 12 years has really helped me win tournaments and be the best that I can be.
"The Mary Peters Trust has supported me with funding awards and I'm very grateful to the charity as funding makes a huge difference to progressing and improving my opportunities to compete worldwide. Last July Trust funding helped me travel to ITF Junior tournaments in Ukraine which boosted my ITF ranking up more than 650 places and lifted me to No 1 U18 status in the Irish National rankings."
Freddy's proudest and favourite moment in his tennis career to date is winning the 2021 Junior Grade 3 U18 Liepaja Singles title in Latvia which raised his ITF ranking to just outside the top 300. The international competition featured U18 players from all over the world and with so many tournaments shelved due to the pandemic Freddy revelled in being back on the junior circuit.
"Latvia was such a beautiful country and I so enjoyed playing there and seeing a little of this Baltic region."
As 'Wimbledon' season is upon us Freddy's early predictions on ladies and men's winners focuses on Emma Raducanu – only a year or two older than Freddy – and veteran champion Novak Djokovic but of course anything can happen at a 'Slam'. Talking of Wimbledon champions, a stand-out memory for Freddy is when he competed for Ireland in 2017 at the U14 Orange Bowl in Miami, Florida and went on court after Bjorn Borg's son Leo. Freddy and he are exactly the same age – but he has yet to play against Leo Borg.
It was two years after the Orange Bowl that Freddy earned his first ITF ranking points in 2019. And now post-pandemic with more opportunities available to play in ITF competitions and a four-year USA based tennis scholarship about to begin, Freddy is surely on the road to realising his dream of acing it in the world of professional tennis.
"I'm really excited for the future and can't wait to build up my skills and strengths as well as gain more match and international competition experience."
Freddy's words of inspiration: "If you quit, you lose"