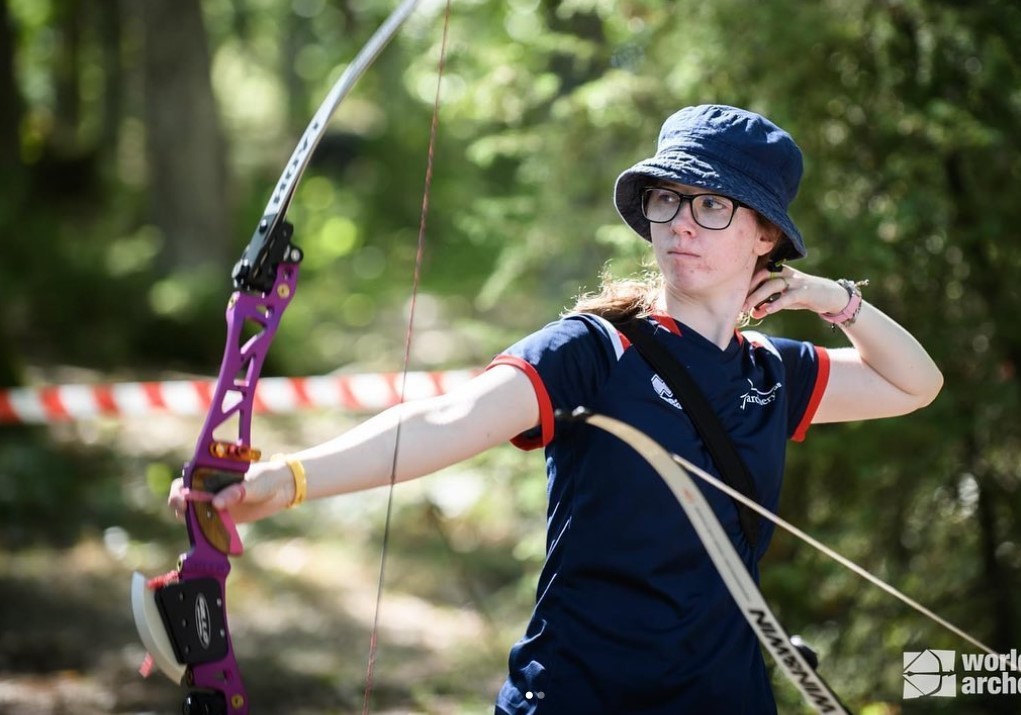 Mary Peters Trust athlete: since 2021
Club: Ballyvally Archery Club
Current study/work: Currently on a gap year post A Levels and aiming to study physiotherapy. Working part-time at local leisure centre alongside studying part time at SRC, and also coaches at her local archery club
Achievement I'm most proud of: Competing for Team GB at the European Field Archery Championships in Slovenia 2019– it was my first international event and I came home with U21 bronze at only 16 years old.
Current goal: to be selected to represent Team GB at the 2025 World Games held in China.
Banbridge archer on target for future success OR Kathryn takes aim for archery
success
Banbridge girl Kathryn Morton's archery prowess all began with a stage performance about legendary folklore hero Robin Hood.
Towards the end of her P7 year, Kathryn and her classmates at Abercorn Primary School had great fun taking part in a Leavers' Play about Robin and his Merry Men, Maid Marian, and the infamous Sherrif of Nottingham. It struck a chord with Kathryn and inspired her to join local archery club Ballyvally Archers Banbridge in September 2015.
"Ballvally Archery Club, located between Banbridge and Loughbrickland, is one of the largest on the island and was founded many years ago by renowned archer Frank Mulligan MBE.
"His son and daughter have carried on the family tradition, and both are World Champions in the sport. I'm very lucky to be part of such a highly respected and active club."
Kathryn specialises in Barebow archery which is the prevalent form of the sport in Northern Ireland. Recurve is a different style of archery and one practised by GB Olympic archer Patrick Huston from Belfast. Recurve bows are the only style featured in the Olympic Games; hence Kathryn's ultimate aim is to compete in the World Games – the highest level a Barebow archer can compete at.
"Whilst I'm hoping to be selected for the 2025 World Games in Asia, I'm only 19 so if I'm not selected, the next World Games will be in 2029. The event takes place every four years and only the top 12 ranked Barebow archers in the World can compete – it's a very prestigious honour to take part."
Kathryn, a former pupil of Banbridge Academy, secured A Levels in Art, Technology, Biology and AS Psychology. She left school in August 2022 and is currently enjoying a gap year. She hopes to stay in Northern Ireland and study physiotherapy at Ulster University's Magee
Campus.
With a number of top-ranking accolades under her belt including 3 rd at the 2019 U21 European Field Archery Championships held in Slovenia, Kathryn also competed at the same competition in 2021 in Croatia coming away with 2 nd individually and 3 rd in U21 Team.
She also came away with individual bronze at the 2022 European Indoor Championships held in Slovenia and 23 rd at the World 3D Championships in Italy, her first tournament as a Senior archer.
"2023 is my last year competing at Junior (U21) level and my goal for this year is to represent Team GB at all 3 possible international events – European Indoor, European Field and European 3D Championships. I'll move into the Seniors in 2024 and although I will be competing against much more experienced archers I'm aiming to build off my success at
Junior level.
"Ballyvally are a very supportive and encouraging cub. We are family-oriented and currently have around 140 members aged 5 and up, with beginner courses being run frequently. I am an Archery GB coach and get to coach weekly at club. It actually helps my own archery as coaching others gives me a greater focus on the fundamentals of the sport.
"I really enjoy coaching and am pleased to have achieved my Level 2 Development Coaching qualification from Archery GB during Autumn 2022. This enables me to coach a wide variety of levels at club, from those archers on beginner courses to intermediate archers who have been in the club for a while – it is an enjoyable way to give something back to the club. I am honoured to have received a Mary Peters Trust award and be part of a wonderful group of esteemed and very successful sports people. It was a pleasure attending a special MPT Athletes Academy in November last year and meeting so many different athletes from a huge range of sports.
"My inspiration comes from all my clubmates – many of whom have and still do represent Team GB and Team Ireland. Everyone is always willing to share experiences and knowledge which is what I believe makes our club so successful. For such a small country, Northern Ireland competes very well on the world stage and I'm proud to represent my club and country at international events."