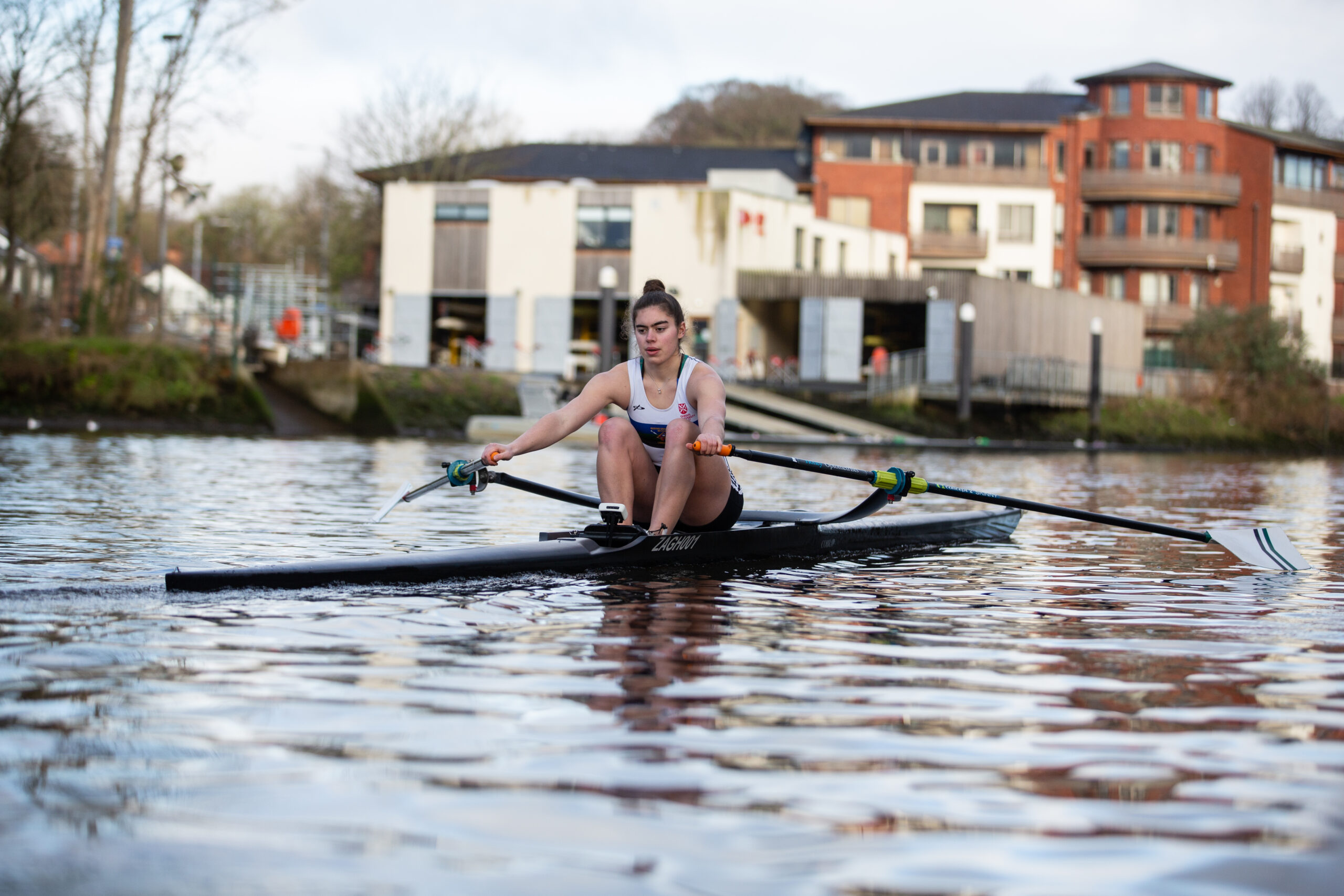 Rowing – Women's Singles, Double and Quadruple Sculls
Mary Peters Trust athlete
studying dentistry at Queen's University Belfast.
Achievement I'm most proud of
winning the National Schools Regatta in May 2019 in a new record time
What is your current goal
to be selected for GB Rowing and take part in this year's
U23 World Rowing Championships held in Bulgaria during July.
Water baby Molly loves the fresh air, sense of achievement and camaraderie that rowing offers
Molly Curry's parents always knew she was going to be sporty. As a very young baby Molly used to bum shuffle around the floor holding bags of sugar and they joked about her becoming a weightlifter.
From the age of 11 swimming was her big passion and Molly swam competitively for Ulster and she has also played hockey for her school, Coleraine Grammar School.  However, it was always in her head to take up rowing. When she and her family were spectators at London 2012, primarily to watch swimming, she was inspired by high profile Team GB rowers who hailed from Coleraine.
Coleraine has been a centre of excellence for rowing for many years and three local athletes, Alan Campbell, Peter Chambers and his brother Richard all medalled at the London 2012 Olympics.
It was only when her school, Coleraine High School merged with the boy's school (Coleraine Inst) to become Coleraine Grammar School, that Molly got a real opportunity to take up the sport.
'When I started first year my school didn't do rowing so I continued to swim, and I also played hockey. However, the boy's school had a huge rowing tradition and when both schools amalgamated, I got involved in 2016 with the school rowing club and haven't looked back since.
'I was taught the basics and right up to Junior World level by Coleraine Grammar School rowing coach Jeremy Johnston, and he was brilliant. Not only did I get fantastic sporting advice but also life coaching and advice on my studies. Luckily for the school Mr Johnston is still there and coaching the next cohort of athletes.'
Molly also pays tribute to her family – her mum and dad Anne and David and her very supportive younger brothers Tom and Matthew. Through Coleraine Grammar's fun rowing days for parents and siblings they have all given rowing a go and understand Molly's sport, but her brothers are sticking to rugby which they have both played from an early age.
'Mum and Dad have been tremendous both in terms of watching and encouraging me and indeed helping me financially. When competing in singles I use my own boat which I need to purchase, and I simply couldn't do that without them. I'll be getting a new boat this summer which mum and dad have helped me with and I'm really looking forward to taking it onto the water.'
Molly is also very thankful to the Mary Peters Trust for their funding since 2018. 'I travel across the water several times a year to training camps as well as competitions in Europe and beyond. The Trust funding has really helped with travel costs.
Molly moved across to GB Rowing in 2022. Until then she had been part of the Ireland squad and had competed with them in a range of competitions including the Coupe de la Jeunesse in 2018, the 2019 Junior World Championships and 2020 Junior Europeans. It wasn't just COVID that prevented Molly from progressing forward as she suffered a back injury and didn't row competitively for an 18-month period starting in 2021.
'I hurt it through rowing but it was when diving into a swimming pool that I felt something give and I just needed time out to rest and recover. However, I continued to train in the gym and on a bike and I kept in touch with all my club mates and coaches at Queens University Boat Club as well as rowing friends around Ireland and GB. I was really keen to get back to full-time rowing and was able to return during 2022. I've continued with physio sessions and I feel these as well as cycling in the gym are of great benefit.'
Molly is currently combining her sport with a dentistry degree at Queen's University Belfast. With another two years to go before graduating Molly is thoroughly enjoying both rowing and her studies.
'They really complement each other. I train 11 times each week and enjoy the structure rowing brings to my life – it actually helps me study better. I am of course looking forward to being a dentist in the local community, but I'm glad being in the workplace fulltime is still a few years down the line.
Molly sees her biggest achievement to date as winning the National Schools Regatta in May 2019. "I was 17 and competing against the best in schools rowing throughout the UK. I secured a course record – and it still stands today!"
For now, her main goal and focus is being selected for the GB Rowing squad for this year's Under 23 World Rowing Championships. They take place in July 2023 in Bulgaria and from June onwards Molly will be based at Caversham near Reading at GB Rowing's training camp. She won't know if she has made the grade until shortly before the competition, but she is hopeful.
'It's not just how I'm performing, as it depends on how everyone else is doing in the trials. And whilst I do compete in Singles, I'm more likely to be selected for Double or Quadruple Sculls. I'll just have to train hard and hopefully do well in the trials. It's tough but I love the challenge.'