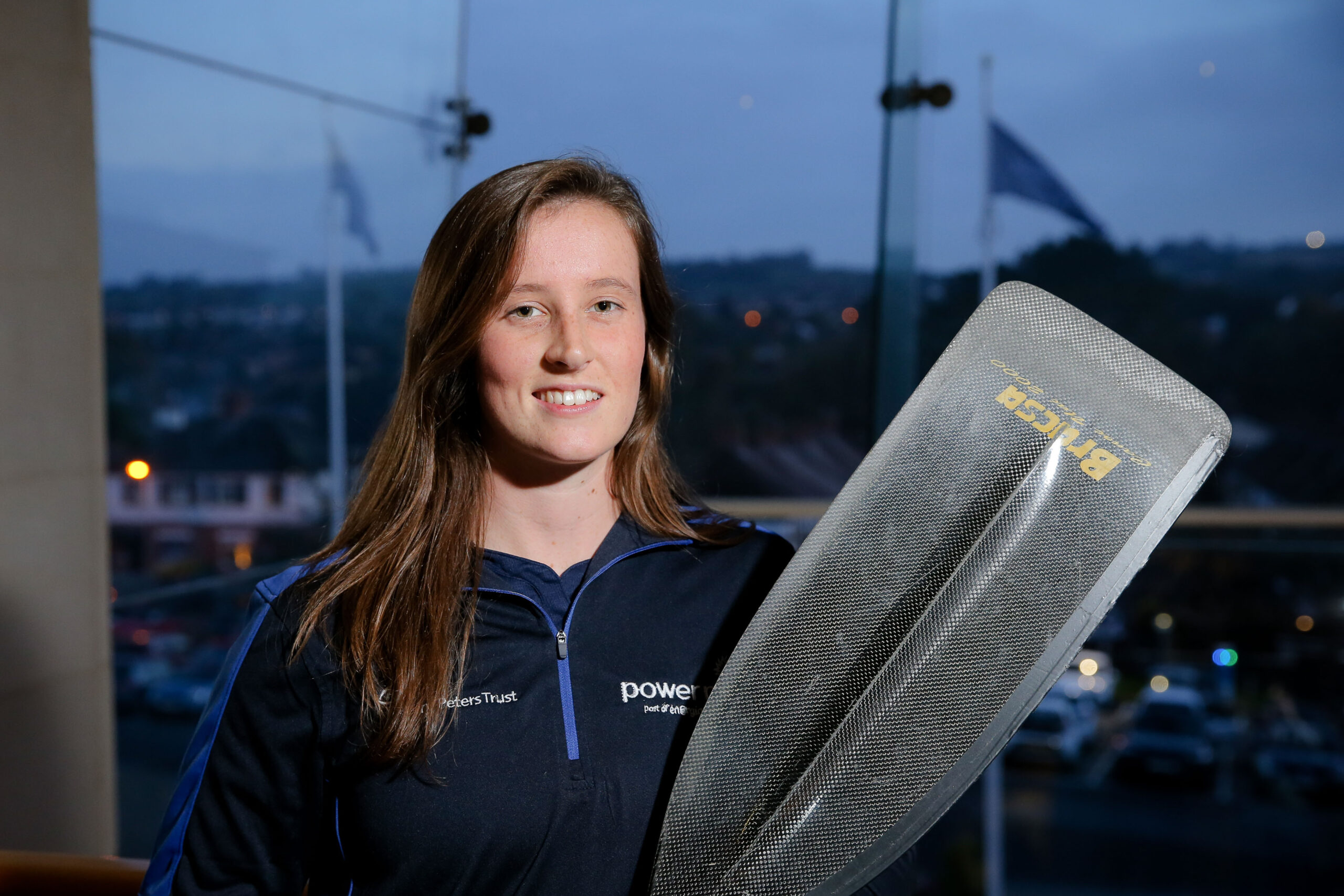 Mary Peters Trust athlete
currently a full-time athlete, graduated with a BSc Hons in Maths and Statistics
Lisburn – but based in Nottingham as an athlete
Achievement I'm most proud of
winning bronze in the 2018 U23 Europeans (C1 200m) and
achieving 6th place in the 2022 World Cup in Poland.
What is your current goal
to hopefully be selected for Paris 2024 Olympics
Mary Peters Trust funding helped Afton get back on course for sprint canoe success
2022 was a challenging year for canoe sprint athlete Afton Fitzhenry. Whilst she retained her Team GB canoeing status, Afton lost her World Class Programme funding, and it was the Mary Peters Trust alongside Sport NI who championed her cause.
'I knew it was going to cost me a minimum of £6K to compete in competitions last year let alone progress and develop, and I was thrilled when Mary and the team backed me, and I was able to secure vital funding from the Trust as well as from Sport NI. It really helped me through a tough time. Thankfully I've come out the other end and am back on track with the World Class Programme and am a fully funded Team GB canoeist.
'The Trust's support has been massive and I can't thank them enough. It really has made me compete for myself and for Northern Ireland.'
Afton is based full time in Nottingham though she travels back home every so often to see friends and family and get some well-deserved R&R.
The 28-year-old from Lisburn joined the Sea Cadets aged 14 and tried out kayaking – despite never having been in a boat in her life beforehand. She turned out to a dab hand at it and things took off from there.
I've always been a sporty person and love the water – both rivers and seas. I'd been involved in swimming and whilst I'm a self-confessed water baby, I'd never sailed, kayaked or canoed before.
'My Sea Cadet leaders said to me – you're pretty good at kayaking and should take it further, so I ended up racing for the cadets and went on to win a UK wide Sea Cadets Regatta competition.'
Afton then joined Belfast Canoe Club in 2012 after taking part in a 'talent day' with CANI (Canoe Association of NI) and she started researching opportunities on how to progress in the sport. Afton was further inspired after watching canoeists lunging down courses at the London 2012 Olympics and took part in a Talent ID programme called Girls4Gold. She was based in Nottingham for 16 weeks and undertook a series of tough tests and each time successfully progressed to the next stage. Ultimately this secured her a place in the Team GB Canoe squad.
Afton began racing internationally for Team GB in 2015 and says her best achievements to date are winning bronze in the 2018 U23 Europeans (200m) held in Italy and achieving 6th place in the 2022 World Cup which took place in the Polish city of Poznan.
Also in 2022 Afton doubled up with Beth Gill in the women's C2 500m and the pair achieved an impressive 6th place at the Multisport European Championships in Munich. The duo also narrowly missed out on a place in the final in the World Championships last year in Halifax, Nova Scotia.
In May this year (2023) Afton travelled to Hungary to compete in the Canoe Spring and Para World Cup regatta in Hungary. It didn't quite go to plan for Afton who injured her back in Hungary, but her good friend and fellow Team GB competitor Jonny Young also from NI claimed a gold for Team GB Para-Canoe winning the men's KL3 200m event.
'Post Hungary I'm focusing on getting back on track for the World's Selection held in Nottingham in early July. Hopefully I'll be fully fit by then.
'Jonny and I would both love to see canoeing develop even further throughout Northern Ireland. We've got the natural landscape and conditions for the sport – canoeing could be massive in Northern Ireland. I'm planning to complete a coaching programme for canoe athletes to help me give back to the sport at a later stage. I enjoy the support of Belfast Boat Club, CANI and the British Canoeing Federation so it will be lovely to support future athletes.
'Of course, canoeing like rowing is a sport that you can still compete in at a high level even when you are older. Naturally my current aim is to try for Paris 2024 Olympics but LA in 2028 is still on the goals horizon.'
Regattas will take place this summer for Olympic qualification.  Countries need to achieve qualification for canoes first, then athletes are selected at a later stage. It will be as late as June 2024 before individual team members are officially revealed.
Afton will certainly remain a full-time athlete until at least after the Paris Olympics.
A past pupil of Friends School Lisburn, Afton did accountancy at Queen's University Belfast before she moved (as a full-time athlete) to Nottingham and completed a degree in Maths and Statistics through the Open University.
'Friends School were extremely supportive of my sport and gave me the confidence and mindset to achieve. As did my family and my canoe club. Stats analysis is a big part of canoeing success and my degree certainly helps me interpret the statistics for future improvement and development.
Afton's mantra could apply to competitors in all sports – individuals or teams: 'To be a happy athlete you first have to be a happy human.'