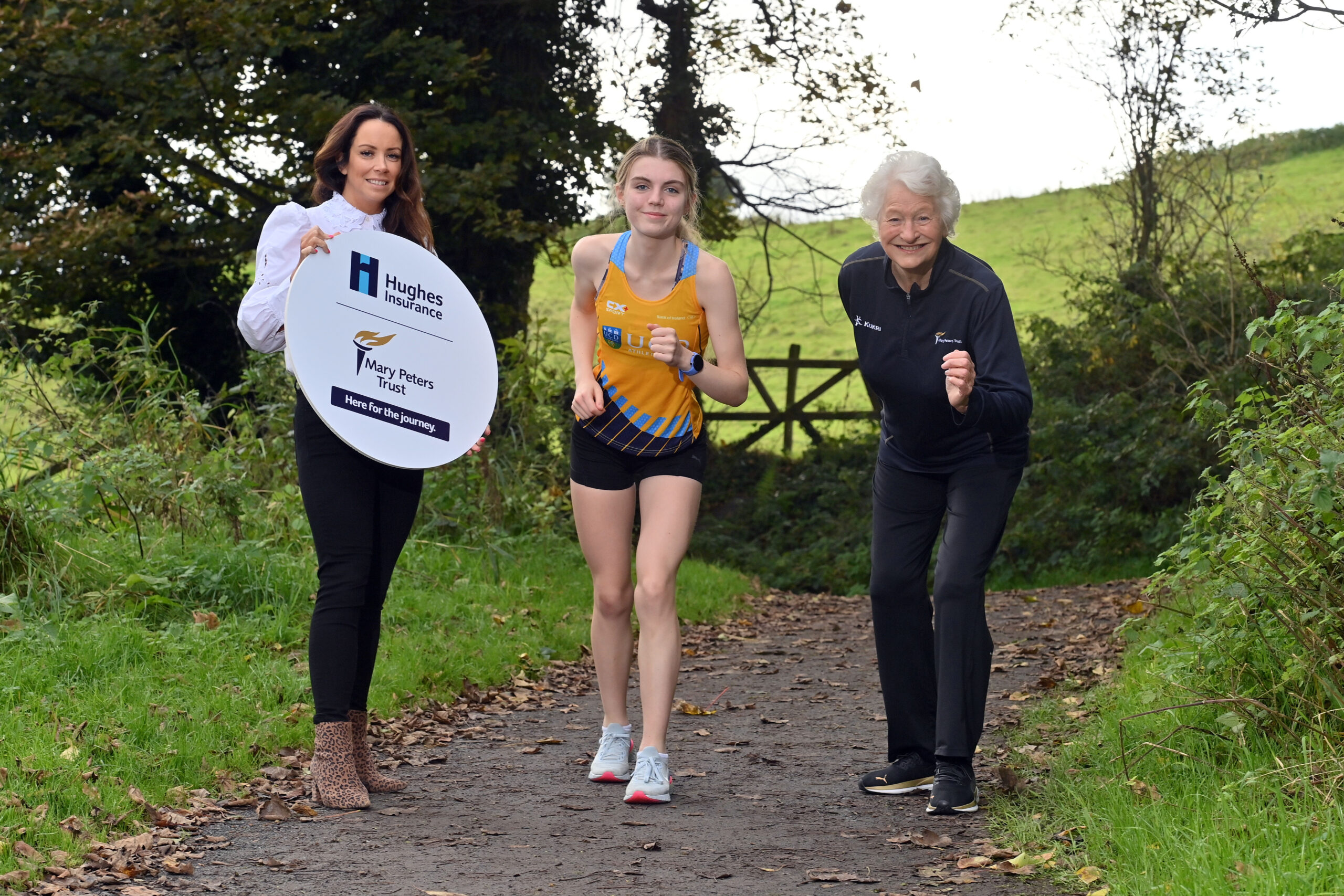 CROSS COUNTRY ATHLETE READY TO HIT THE GROUND RUNNING IN 2022
Belfast teen, Aoife McGreevy, awarded a £500 bursary from Mary Peters Trust
Hughes Insurance, as part of an ongoing bursary partnership with Mary Peters Trust, has today announced long-distance running talent, Aoife McGreevy (19), from Belfast, as the next recipient of the £500 award to help her on her sporting journey. Aoife, who has been running competitively since she was 12, is currently working towards qualifying for the European U20 Cross Country Championships in 2022.
Lady Mary Peters said: "Seeing Aoife's commitment to athletics takes me back to my competitive days. It's wonderful to see young people across Northern Ireland carving out careers in endurance sports. Aoife has a promising journey ahead of her and she has the talent to go the distance. I am so pleased that my Trust, through this bursary collaboration with Hughes Insurance, is in a position to acknowledge and support these selected athletes who come from all sports and all walks of life."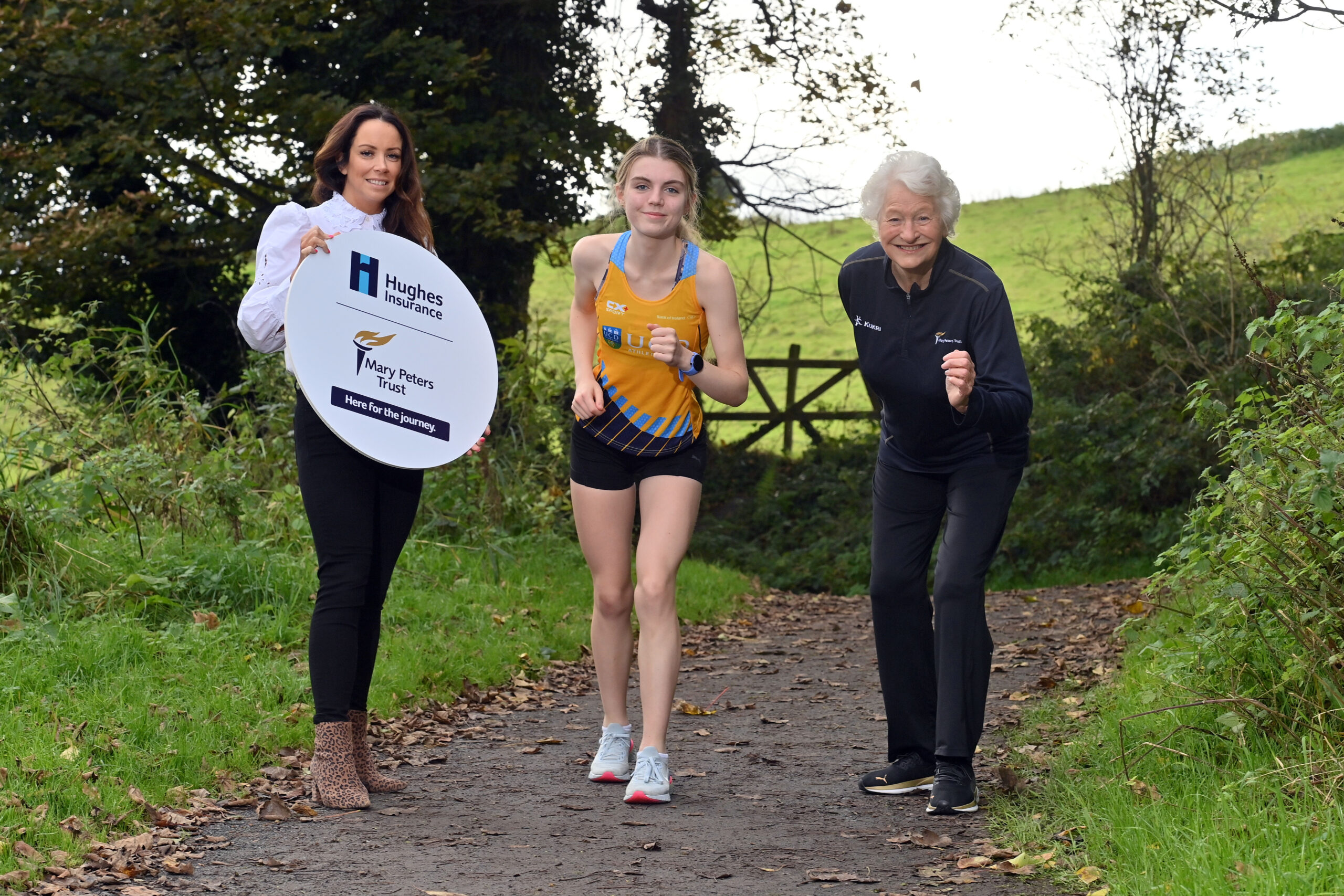 Aoife currently splits her training schedule between Belfast and Dublin where she is currently studying. She is a member of the University College Dublin team and Lagan Valley Athletics Club where she is trained by Mark Kirk, a renowned trainer who competed for Northern Ireland in the Commonwealth Games in Edinburgh 1986 and Auckland 1990. Having already racked up some notable achievements such as a medal in this year's Irish Junior Championships, Aoife says that being selected for the bursary has made her even more motivated to compete.
Aoife said: "Whilst I am the type of person who doesn't mind a few training sessions alone, I'm glad to be back to training with others. Lockdown was the biggest challenge I've had to face in the sport as it's very hard to know how you're doing when you can't compete or compare yourself to your peers. I was pleasantly surprised to see my progress once I got back to competing and now, being selected by Mary Peters and her Trust to receive the bursary, I'm incredibly motivated to compete this season.
"The bursary will help me get to high level competitions such as British Milers Club meets in England, but also invest in my training gear and have more regular check-ups with my physio – all of which are really important to my progression. I'm working towards two major goals – the first is to qualify for the European U20 Cross Country Championships and the second is to work on my times over the coming year so I can target the U23 European Championships in 2023.
I love my sport so I always feel a sense of achievement after a hard race or training session – I love the buzz it gives me."
Aoife's ambition and determination is commendable, and she isn't alone, with Northern Ireland being home to many passionate and promising young athletes, many just at the beginning of their sporting journeys, striving to achieve greatness.
Emma Haughian, Senior Marketing Manager at Hughes Insurance, said: "In partnering with the Mary Peters Trust, we have the ability to support young athletes from right across Northern Ireland. It means a lot to us as a community-focused organisation to help these talents get a little further in their journeys, particularly as we acknowledge how tough it must have been for them throughout the pandemic."
For more information on Hughes Insurance visit hughesinsurance.co.uk