As Good as Gold – Tales from Mary's Commonwealth Games
1974 was a very good year. Well, perhaps not in relation to the economy or politics – but memorable in the sporting, film, pop and rock 'n' roll arenas.
Chris Evert won her first Grand Slam, Ireland clinched the Five Nations, Dublin the Sam Maguire and West Germany the FIFA World Cup. Waterloo brought ABBA global success, The Sting secured seven film Oscars, hitting the UK charts were artists such as Suzi Quatro, David Essex, The Three Degrees and Queen. Roger Moore was 007 James Bond and The Fonz in Happy Days graced our small screens.
Sir Paul McCartney and Wings topped the US charts with Band on the Run (number 3 in the UK) and Liverpool (just like 2022) won the FA Cup whilst the Liver Birds was one of TV's most popular comedies.
So, what does Liverpool FC, two young Scouser flatmates and Sir Paul have in common with Lady Mary Peters? Well, 'Our Mary' was born in Liverpool before moving to Northern Ireland with her family and making it very much her home. She's now become one of our most famous ambassadors and sporting legends.
For Mary, 1974 was a very special year as it was her last competitive Commonwealth Games. It wasn't her intention to compete in Christchurch, New Zealand. However, the tragic loss of Mary's Olympic coach Buster McShane following a car accident in March 1973, changed her mind.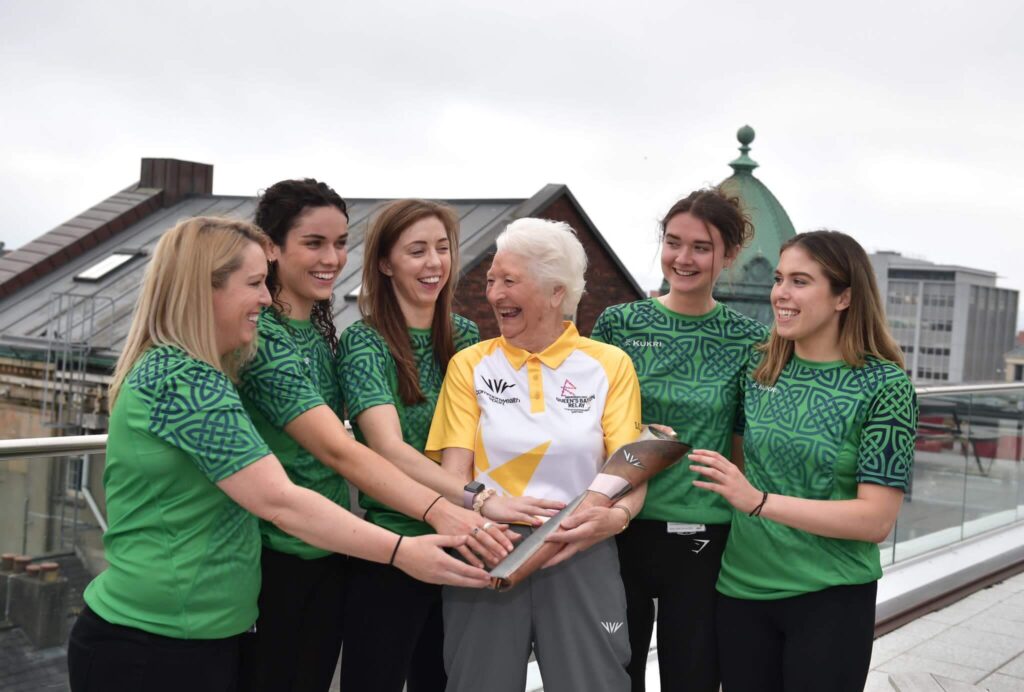 Mike and I set ourselves a goal to win a Gold medal
"It was a very emotional time because of Buster's death, but Mike Bull (the pole-vaulter and decathlete) and I decided we would train together, and both set ourselves a goal to win a gold medal at the Commonwealths as a tribute to and in memory of our wonderful coach."
Munich 1972 and the Olympic Games is surely Lady Mary's most famous sporting achievement. Who can forget her stirring words to the people of Northern Ireland as she stood outside Belfast City Hall during her Homecoming Parade, 'I went for Gold, I won Gold and I brought it back for you.'
Her success at Munich is much documented and Mary is of course thrilled to mark its 50th anniversary this year with a host of different events including Corporate Games held in June, a special fund-raising Afternoon Tea at the Europa Hotel on Sunday 4th September and a sporting extravaganza at the Mary Peters Track on 2nd and 3rd September.
Following the 1972 Olympics Mary had embarked on a campaign to generate funds to create her now famous running track in Belfast, "I went everywhere to raise cash, up the Shankill and down the Falls, to schools, church groups, factories and sports clubs. Malcolm Brodie and the Belfast Telegraph helped enormously to highlight the campaign and corporate benefactors such as John Moore of Littlewoods Pools fame made substantial donations.
"But I needed to keep the campaign alive, and I felt by competing in one more Games it meant people would still be aware of it and our ultimate end goal. I was also in the process of setting up what was to become the Mary Peters Trust. So, I had several reasons for once again training and prepping for a major athletics competition.
"To be honest I wasn't really fit enough to win a medal, but determination and hard work kept me going and I was lucky enough to get the Gold Medal in pentathlon. And Mike Bull got Gold in the decathlon – as well as a silver in the pole-vault."
Competition, craic and cordiality
Northern Ireland in fact secured a trio of 'Golds' at Christchurch with the third won by boxer Davy Larmour. The Commonwealths are known as the 'Friendly Games' and Mary has a few stories which reflect its cordial ethos.
"I had great fun with the Nigerian athlete Modupe Oshikoya, who was to win pentathlon silver in Christchurch. In our hurdles race the announcer got totally mixed up and said 'Mary Peters – Nigeria' – as I had the letters NIR on my back. (Nigeria is NGR). For a laugh Modupe and I exchanged tracksuits and the crowd absolutely loved it and got really interested in the event."
It's moments such as this that characterise the Commonwealth Games and make them so memorable. "It meant so much winning gold at Christchurch as it raised the profile again of Belfast as being a lovely place to come from. At the age of 34 I was really quite mature for a female competitive athlete. I was the 'Grande Dame' of the team – the matriarch, but we all got on so well and it was just fantastic.
"My lasting memory of the 1974 Games is, asking a Canadian discus thrower – the tallest man in the Athletes Village – to carry me on his shoulders at the Closing Ceremony. I wanted our team flag to be quite literally head and shoulders above all the other teams. He even curtsied to the Queen with me on his shoulders so we both definitely ended the Games with a flourish! Years later we bumped into each other and had a great laugh looking back chatting about him carrying me right around the stadium in New Zealand.
"My advice to those competing in the Commonwealth Games for the first time is to enjoy both the experience and the friendships you make. I shared accommodation with javelin thrower Bridget Robinson in my first Commonwealth Games in 1958 and we've kept in touch ever since."
The fact that Birmingham is hosting this year's Commonwealths brings everything full circle for Mary – who will of course be at the Games as patron of the Team NI.
"I've a fondness for Birmingham as it's where I took part in my first major tournament – the British Championships in 1956 – I came second in pentathlon. That led to my first Commonwealth Games in 1958 at Cardiff and it's been a privilege to have competed in or been a team supporter in every Games since, bar one."
Mary has been to 15 Commonwealth Games across seven decades and heading to Birmingham will take her into an 8th decade and 16 Games. She competed in five and has been present at subsequent ones as a patron, supporter and spectator.
"Commonwealths are one-of-a-kind style experiences and each has their own personality, but are unique and brilliant in an individual way. In 1974 at my last competitive our NI team comprised 43 people, but this year Northern Ireland can boast a team of almost 100 competitors. It's absolutely amazing and I wish each and every team member the very best of luck and know they will all do their utmost to make us proud."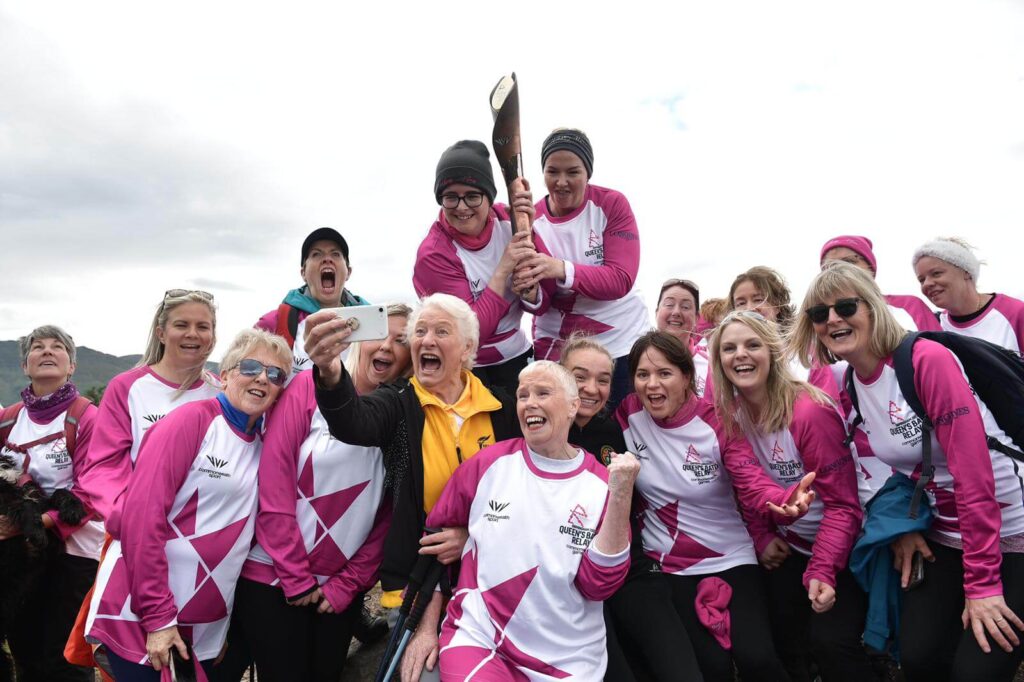 Back to the beginning
Back in 1958 Mary was 18, had left Portadown College where she was first inspired to get involved in athletics, and was training to be a Home Economics teacher at Belfast College of Technology (now Belfast Met).
"In my early days as an athlete I did long jump, high jump and 220 yards sprint. I'd joined Ballymena and Antrim Athletics Club which had been set up by Maeve and Sean Kyle. They recognised my potential and in 1956 they had staged Northern Ireland's first ever Pentathlon Championships."
Maeve and Sean were certainly ahead of their time. Women's pentathlon didn't feature in the Olympics until Tokyo 1964 and it was at Edinburgh in 1970 before they were first included in the Commonwealth Games.
In the 1956 NI Pentathlon Championships a young Mary (16) had achieved third place after established competitors Thelma Hopkins and Maeve Kyle. To take part Mary had to learn from scratch how to do the shot put and the hurdles and very soon after she was breaking Northern Ireland shot put records.
"My dad had already created a sand pit in the field behind our house in Portadown so that I could perfect my high jump and long jump. It was actually a 16th birthday present. So, for my 17th he built a cement shot put circle. I continued to compete in local events and qualified for the Northern Ireland team heading to Cardiff for the 1958 Empire Games (as it was then called). I competed in the shot and high jump as there was no pentathlon event.
"It was a real learning experience. Along with my team-mates Thelma Hopkins, Maeve Kyle and Bridget Robinson we got through to the 4 x 110 yd women's relay final which was totally unheard of. I also recall the absolute joy when boxer Terry Milligan won a gold. The boxers were as good then as they are now. I remember Terry feeling on top of the world and leading us all in singing Irish songs on the bus coming back home to Belfast. And I was thinking that I wanted to personally experience that jubilation of bringing gold back to the people of Northern Ireland."
After Cardiff Mary continued to compete in meets and competitions and joined London based Spartan Ladies AC. Top achievements in a Dutch competition whilst competing for Spartans led to Mary being selected for Team GB in the shot during 1961.
Buster McShane had been a fellow-athlete of Mary's at the Cardiff Commonwealth Games representing Northern Ireland in weight-lifting. On seeing her train and compete Buster recognised Mary's strength and capability and knew that with the right training and management programme she had so much more to give. He had a vision for the future and offered to help coach Mary.
Commonwealths and Olympics
In the 1962 British Empire and Commonwealth Games in Perth, Australia Mary competed in the High Jump and Shot put coming fourth in the latter. Travelling to Perth also meant that she could visit her brother John who by this stage had emigrated to Sydney. Mary's dad also went to live in Australia but not until 1970. The Tokyo Olympics in 1964 featured women's pentathlon for the first time. Mary was part of the GB set-up and achieved fourth in the pentathlon behind teammate Mary Rand who took the silver medal.
Kingston Jamaica hosted the 1966 British Empire and Commonwealth Games and with no pentathlon available Mary competed in the shot put competition. She had been training hard with Buster and had purposely gained two stone in weight in order to be more competitive. Mary had broken Commonwealth records in the heats but in the final after a long delayed start she lost gold but took the silver medal.
"I really was on course to win and feel that I lost drive and adrenalin due to the much-delayed final. Buster was really upset with me, which is understandable, but I believed people would still like and respect me for winning silver – and they did! However, after that experience I decided I wanted to be a pentathlete as opposed to a pure shot put competitor. I easily lost two stone and my pentathlon journey began in earnest."
At the 1968 Olympics in Mexico Mary took on the role of Women's Athletics Captain for Team GB and came 9th in the pentathlon. It was at these Olympics that US high jumper Dick Fosbury perfected a new technique which became known as the 'Fosbury Flop' – a technique that Mary was later to adopt and one which massively improved her high jump scores in the pentathlon.
For the 1970 British Commonwealth Games when pentathlon was introduced for the first time, Mary set herself the goal of winning two golds – pentathlon and shot put – and achieved both.
"It was fabulous. I really felt brilliant and my success got super coverage back home. After Edinburgh I took a year off from serious training, although of course I continued my fitness programme."
Career pinnacle at Munich
It was on 3rd September 1971, exactly a year to the day when Mary got Gold at Munich, that she first tried out the Fosbury Flop.
"I jumped higher than ever before and it was a real turning point in my career and approach. I had one full year to prepare for the Munich Olympics and focus on training, nutrition and psychological mindset.
"Buster through his contacts had sourced an opportunity for me to train with Bill Pearl in Pasadena, Los Angeles. Bill was Mr Universe at the time and ran a health club in California."
Mary had given up her job as a teacher back in 1964 to focus her athletics career and earned her keep by working as a secretary at Buster McShane's Health Club. In order to take up a vital intensive training programme in the States Mary applied for a funding scholarship through the Winston Churchill Trust.
"I had to travel to London for an interview and the panel were sceptical. They asked me if I really thought I could win Olympic Gold at the age of 33. They obviously thought I was too old. But I retorted with conviction – Yes I will win – I will bring the gold medal back home."
Mary succeeded in securing the cash for a memorable 6 weeks with Bill Pearl and his team in LA as well as training at the University of Southern California. All the extra training was paying off and at a competition in August 1972 in Edinburgh, Mary cleared her best ever height in the High Jump at 5ft 10.
The rest as they say is history. As the BBC commentator said in Munich on September 3, 1972, 'The girl from Belfast has got the gold with the world record.'
Mary says, "Winning the Gold Medal changed my life for ever. However, it really was the icing on the cake to go to Christchurch in 1974 and alongside Mike Bull and Davy Larmour win gold medals at the Commonwealth Games."
Games legacy
Mary went on to complete the fundraising and open her Mary Peters Track in 1976. It launched as a 6-lane track but was upgraded to an international standard 8-lane track in 2013 ahead of the NI hosted World Police and Fire Games. Also established as a legacy after Munich was the Mary Peters Trust which funds young people to help them achieve their sporting dreams and ambitions.
"Because I've been to so many Commonwealth Games over the years, I've got to know many different athletes from each competing country. When walking around the Athletes' Villages or at the various stadia I always meet someone I know from past Games and we stop and chat and have a catch-up. It's such a lovely feeling."