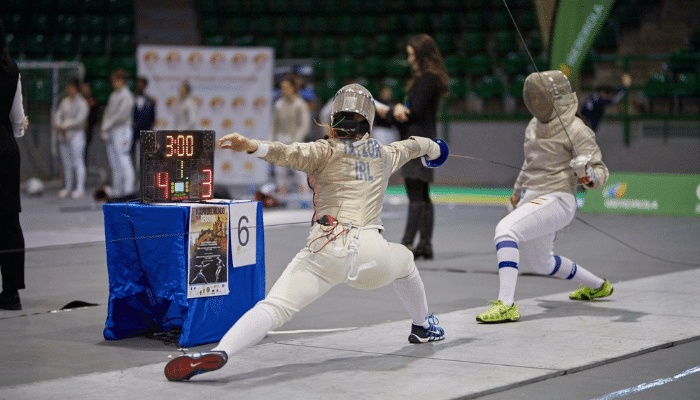 Mary Peters Trust athlete: since 2015
Beth may not be a Stars Wars
fan but the force is definitely with her
Queen's University civil engineering student Beth Taylor officially started fencing during her first year at Lisburn's Hunterhouse College, but it was friendly rivalry, a few years prior with older brother Daniel that first sparked her love of this highly skilled combat sport.
"When he was much younger Daniel loved Star Wars films and Lord of the Rings. He loved the idea of being a Jedi and at a holiday camp in England he got the chance to try fencing and then took up the sport when back home. I'm definitely not a big Star Wars fan but I'm so competitive that whatever Daniel did I had to have a go at too – and I always wanted to be better than him!"
Beth thrust herself into training at school, entered lots of competitions and really excelled. In 2018 she won a bronze at the Junior Commonwealth Games and is aiming for a place on the NI team competing in this summer's Commonwealth Games. Now Daniel, along with her parents, is Beth's biggest fan.
"I'm very excited about the senior Commonwealth Games and fingers crossed I get good news regarding selection during April 2022. During Covid lockdowns I was actually recovering from various injuries, and now that I'm back to full fitness, my drive and determination have totally returned and I'm thoroughly enjoying training and competing and am looking forward to further honing my skills in the build up to the Games.
"Through fencing I've been lucky enough to travel to so many different European countries, made great friends and have learned a lot from my fellow fencers. I'm indebted to the team at the Mary Peters Trust. Without their financial awards and personal support I simply would not have been able to compete or take part in training camps outside Ireland nor achieved my full potential.
"I'm due to finish my Masters in Civil Engineering by June 2023, and have secured a job post- graduation specialising in roads and highways design and maintenance. But fencing will always play an important part in my life and ultimately I'd like to give back to the sport and get involved in coaching the next generation of young competitors."
Meanwhile the key short-term goal for 21 year old Beth is reaching the 22nd Commonwealth Games hosted by Birmingham and ultimately doing her very best to secure medal success.
Beth's words of inspiration: "Look where you're going and you'll go where you're looking."