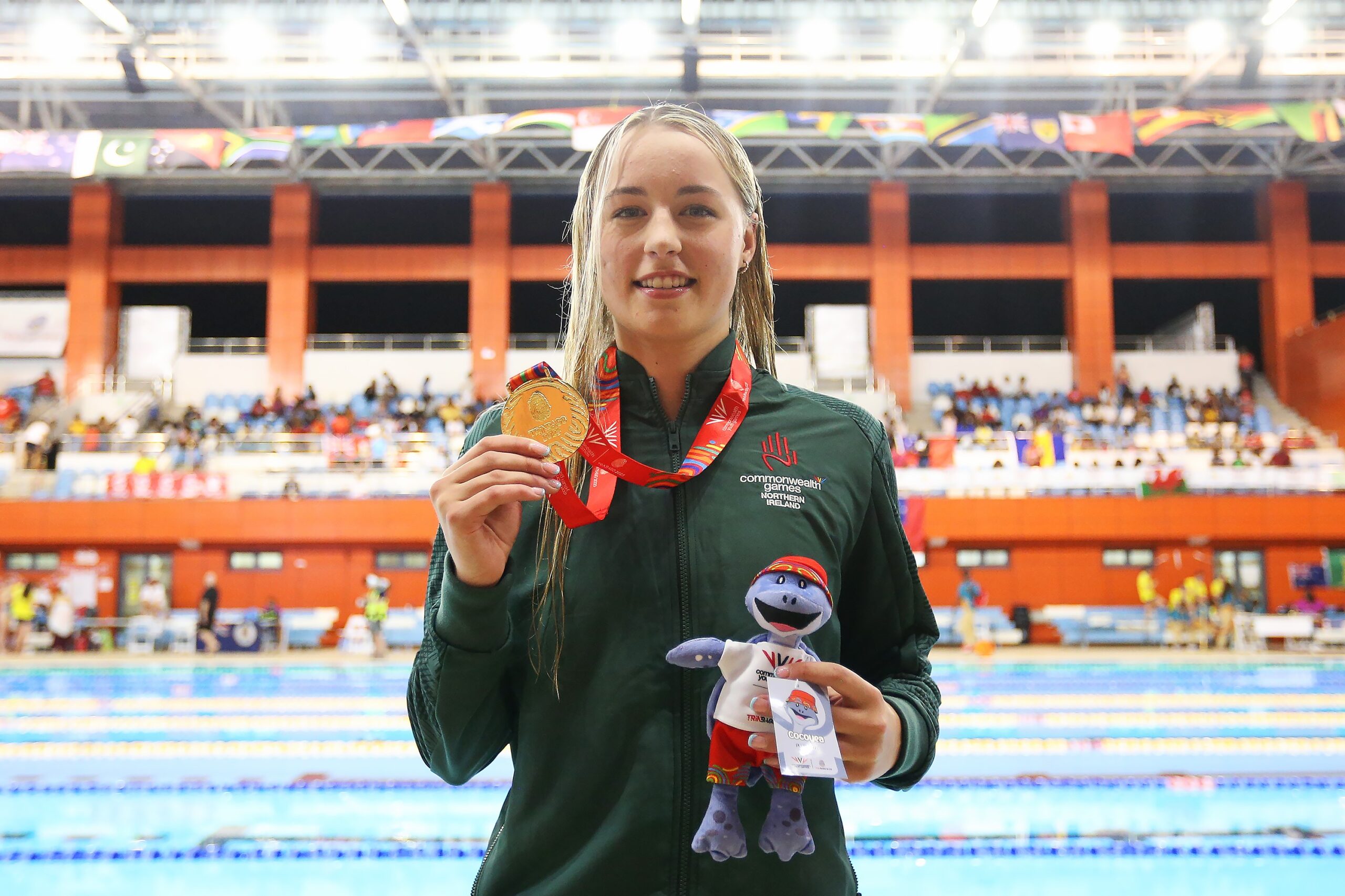 Mary Peters Trust athlete
studying Sports Science at University of Limerick
Achievement I'm most proud of
winning 2 golds (200m breaststroke/200m individual medley) and a bronze (100m breaststroke) at the 2023 Youth Commonwealth Games What is your current goal: to successfully transition from Youth to Senior and win top race meets.
What is your current goal
to successfully transition from Youth to Senior and win top race meets.
NI swimming in a sweet spot says Youth Commonwealth Games double gold medallist, Ellie
Enniskillen girl Ellie McCartney chalked up two golds and a bronze at the 2023 Youth Commonwealth Games – her first multisport Games and loved the whole experience, "It was so good to meet and chat to athletes from so many different sports, swap ideas and ask one another lots of questions – both silly and sensible. I really learned a lot.
"I had no expectations before I left of how I would perform against other swim competitors. But once in Trinidad I could see I was seeded high and that gave me great confidence. We won our biggest aquatics medals haul ever at a Youth Commonwealth Games and overall the whole squad came 7th in the medals table."
Ellie competed alongside her good friend and training partner Grace Davison who collected a Gold in the 400m individual medley and took silver behind Ellie's Gold medal in the 200m (IM). "It was fabulous to have a Northern Ireland 1 and 2 and with Grace picking up her own Gold too, that was the icing on the cake. Northern Ireland swimming is in a great place right now with the likes of Daniel Wiffen and Barry McClements – I've swam and trained a lot with Barry. Our local swimmers who reach Paris 2024 will be ones to watch."
Whilst Ellie isn't ruling the possibility of qualification for the next Olympics in Paris, she feels it could be a challenge to be selected for Ireland. Yet the LA Olympics in 2028 are a long way off and a lot can happen in the next few years. Her next goal is to perform to the best of her ability at the World Aquatics Swimming World Cup this November (2023) in Budapest. Then after that in December the Europeans in Romania.
Swimming is in her genes as Ellie's grandfather Raymond McCartney was a founding member of swimming club, the Enniskillen Lakelanders and her dad, Fermanagh hotelier Terry McCartney, has been part of the club all his life. Taught by her dad, Ellie started swimming seriously aged 7, winning her first Irish title aged 11. She picked up a few more national titles before deciding to make the move to Bangor Aurora and Ards Swimming Club just two years ago when she was 16.
"Lockdown gave my family and I time to think and plan. At that stage my dad was driving me to the 50m pool in Craigavon (I had been granted elite athlete status and allowed to train). With GCSEs completed it was a good time to change direction and make the most of the top-quality coaching and facilities at Bangor Aurora's High-Performance Centre. As a member of Ards Swimming Club, I've trained alongside paralympic star Bethany Firth who is an inspiration to so many.
It was a huge change for Ellie to move to North Down but one she feels has stood her in good stead making her more independent and pushing her to manage her own daily schedules. Luckily Ellie had relatives in Bangor and living with them helped her to settle quickly into a new routine. She moved from Enniskillen Royal Grammar, where she had been a few school years below Ulster Rugby star Robert Baloucoune, to Glenola Collegiate located just a few steps from the Aurora pool. It was the right move for Ellie as she first secured a place in the international team (Ireland) aged 17 in 2022.
"I train 20 hours a week in the pool and it's a tight balance to manage schoolwork and training but all those early mornings have given me a real discipline in running my life and one which I feel benefits me in other areas, including academia."
Ellie received excellent A level results in August gaining two A stars and an A and is studying Sports Science at the University of Limerick with a view to further training in physiotherapy.  Limerick offers Ireland's aquatics National Performance Centre close to the university where Ellie is under the auspices of Ireland Head Coach John Szaranek.
Ellie first became a Mary Peters Trust athlete in 2020 and is very appreciative of the support that comes with it, "Travel costs to attend competitions are high and receiving funding from the Trust really makes a difference. I'm also delighted to be part of an elite group of sports people. I've got a lovely memory of swimming with fellow MPT athletes Danielle Hill and Andrew Bree in a fundraising swimming gala organised by the Aurora team which raised money for the Mary Peters Trust."
The best piece of advice Ellie has been given is what she would also say to younger athletes just starting out:
"Say yes to every opportunity unless you have a very good reason to say no." Ellie also recommends asking older athletes lots of questions as you can learn so much from experienced sports people.
Obviously, everyone in Ellie's family is incredibly proud of her, and though her Enniskillen Lakelanders grandfather Raymond is no longer with them, her grandmother is one of Ellie's biggest fans. "My Gran covers her fridge with newspaper clippings held in place with fridge magnets. I try to buy her a new magnet from each location I compete at."
Ellie's mantra could apply to competitors in all sports – individuals or teams: 'Say yes to every opportunity unless you have a very good reason to say no.'