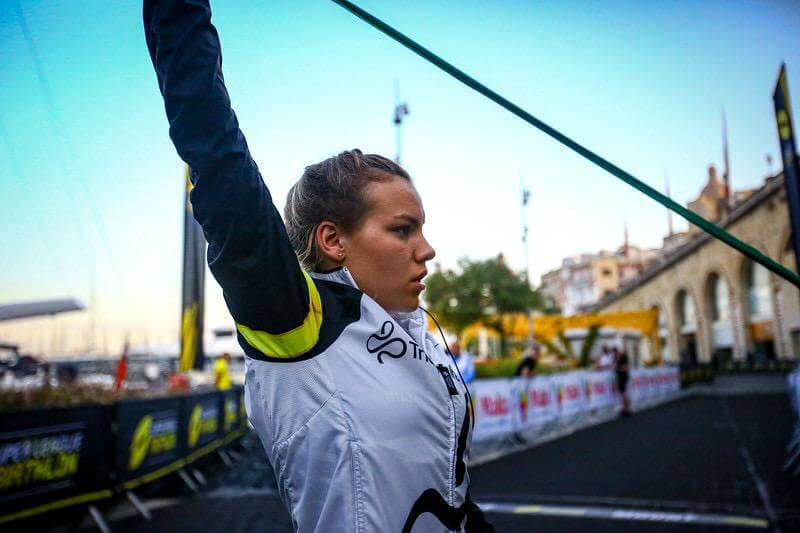 Mary Peters Trust athlete
She is also working part-time as a swimming teacher and coach
Achievement I'm most proud of
Winning both silver and bronze at the 2021 European Aquathon Championships in Austria
What is your current goal
Ultimately, I'm aiming for the Olympics in Paris 2024, the Commonwealths in Melbourne 2026 and long-term the 2028 Olympics in Los Angeles.
I'm proud of the athlete and the person I've become
"I don't give up easily," proclaims Newtownards triathlete Erin McConnell, "I'm one of those people who puts their all into something if I want to achieve that goal. I mightn't always fully get there – but I give it my very best!"
The 21-year-old Ulster University Sports & Exercise Sciences graduate was 'headhunted' for the sport back in 2016 and became a Mary Peters Trust supported athlete from 2018. She's one of five local sports people to each benefit from a David Magill bursary provided annually by the Magill family and in memory of David who passed away in November 2021.
Swimming was Erin's first love and like Bethany Firth she's developed through the ranks at Ards Swimming Club. "Bethy is one of my best friends, a huge inspiration and is like a big sister to me. We swim regularly together and support each other along the way. I'm absolutely thrilled that Bethy secured Commonwealth Gold in Birmingham. She's worked incredibly hard to achieve her goals."
Erin started competitive swimming aged 10 and was entering and succeeding in major events such as the Irish Championships from the age of 14. The former Strathearn pupil was also part of annual multi-sport event the UK School Games in 2015 at Loughborough.
"To keep fit and help improve my swimming I was training and running regularly but also represented my school in cross-country and long-distance events. It was a natural lead-in to triathlon and I trained hard to develop my cycling skills and technique.
Erin is coached by Chris Speers and says, that alongside her mum and dad, Chris and his wife Kerry are her Number 1 supporters. "Without them I just simply couldn't do it. Obviously with the three sports of swimming, cycling and running to buy clothing and equipment for, it's incredibly expensive. Mum and dad have been a huge help in terms of financial support, and I am also indebted to the Mary Peters Trust for their invaluable funding awards."
To date Erin's proudest achievement is winning both silver and bronze at the 2021 European Aquathon Championships in Austria. She secured a silver in the Under 23 competition and a bronze at Elite level.  Her next big event and what Erin is currently working towards, is the World U23 Championships at Abu Dhabi at the end of November 2022.
Having only graduated in July 2022, Erin's key focus for the moment is training and working towards her sporting goals. She is also working part-time as a swimming teacher and coach and in the future would certainly be interested in a full-time job encompassing sport.
"Ultimately, I'm aiming for the Olympics in Paris 2024, the Commonwealths in Melbourne 2026 and long-term the 2028 Olympics in Los Angeles.  I've still a long journey to travel, but with most triathletes peaking in their mid-20's, time is definitely on my side."
Wisely Erin argues, "Reaching the top of your game is a marathon, not a sprint. Never give up, push yourself and enjoy your journey"
Erin's words of inspiration: "I'm proud of the athlete and the person I've become"