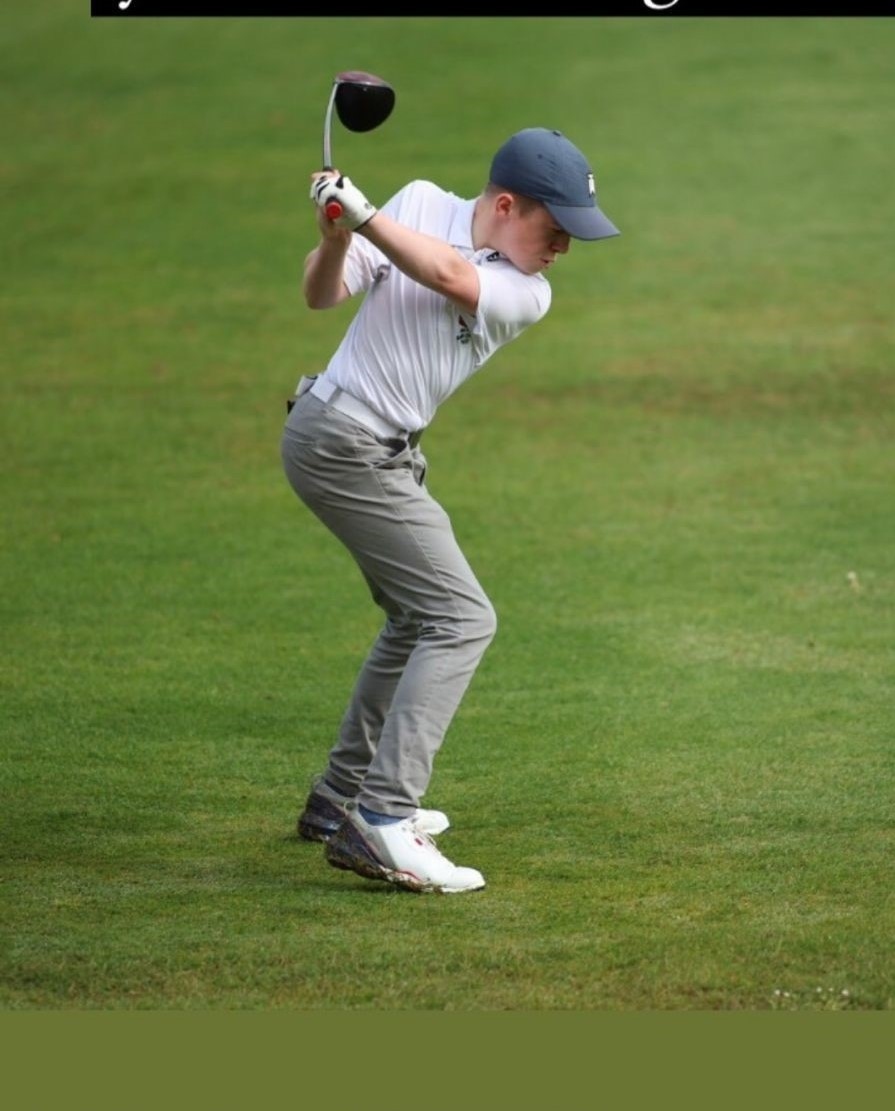 Mary Peters Trust athlete
studying GCSEs at Rockport School, Co Down
Achievement I'm most proud of
winning the Irish U14 Amateur Boys
What is your current goal
to be the best I can at U16 level and potentially a golf professional in the future
It's all relative for Ireland squad golfer Harry, with sister Molly, dad and mum also playing the game
For Rockport pupil Harry O'Hara his love of golf started when he was two and a neighbour bought him a set of plastic golf clubs.
His dad Ray recalls that each time Harry picked up the toy clubs he hit the ball perfectly straight. Ray had played golf, but with a busy work life and a young family to take care of, had given up the sport. However, seeing just how good Harry was, he decided to dust down his golf clubs and take his two-year-old son to the driving range at Blackwood Golf Centre and Harry then went to regular coaching sessions.
Harry's older sister Molly, who was seven at the time, also decided to join them at the driving range and as a family they became members of Clandeboye Golf Club which is still their home club. Mum Shelly has recently started to play, so golf is very much a family focussed activity.
The Newtownards siblings were pupils at Regent House School, but both were offered golf scholarships at Rockport School near Holywood. It's the only school-based golf academy in Ireland and Harry is a member of their Elite Squad, as was Molly before she completed her A Levels in summer 2023 and took up a golf scholarship at South Dakota State University.
In September 2023 Harry joined the Ireland U16 Boy's representative panel and regularly travels at weekends to Carton House, Co Kildare for training and playing sessions.  He is one of 10 boys from all over Ireland and if all goes well Harry could be selected for a range of international competitions in many parts of the world.
In 2018 Harry won the Gary Player Trophy at the Irish Junior Open. He'd been runner up in 2017 so it was magical to go on to win the title. In 2019 at the high profile British Open held in Royal Portrush, Harry became quite the celebrity when he got to meet legendary golfer Gary Player after collecting the trophy named after the South African. The two got on incredibly well and Gary invited Harry to the Sky Zone VIP area and clips of the two of them chatting all things golf went viral on social media. Harry was subsequently interviewed on Sky TV and by local sports presenters UTV's Ruth Gorman and Stephen Watson from BBC NI. It was a truly memorable experience for Harry and his family.
Recent accolades for Harry include winning the Irish U14 Amateur Boys at Lisburn Golf Club in August 2023. Also, as a member of his school (Rockport) team Harry travelled to the historic home of golf at St Andrews in March 2023 playing against Scottish Schools on the Eden Course. The Rockport team were delighted to secure 2nd place in the tournament.
In terms of golf heroes Harry cites Rory McIlroy, "I've grown up watching Rory and he's achieved so much already. I also like Tiger Woods – he has a good mentality and has overcome tough injuries. Basketball player Michael Jordan is another sports person I really admire."
Harry's parents describe Harry as superbly focussed and very organised and Harry believes it all about practice and more practice. He evens practices in the rain and it's that kind of mentality and approach that will be needed to succeed in the future. Harry is coached by innovative coach Johnny Foster based at Greenacres Golf Centre near Ballyclare. The Golf Ireland coach also looks after young Holywood star Tom McKibbin who turned professional in 2021.
On how to succeed in golf Harry says, "You need to work hard of course. It's a combination of mental strength and a strategic focus." And on his sister's golf, "I'm so proud of her getting to America, she practises hard and is a very good golfer. We help and support each other and although we haven't played together in a competition, we've caddied for each other."
Like his sister, Harry is proud to be a Mary Peters Trust supported athlete (in 2023) and is thankful for the funding support.
Post A-Levels Harry would love to follow in his sister Molly's footsteps and secure a golf scholarship at American university. Ultimately Harry would love to become a golf professional though he knows it won't be easy.
Harry's mantra could apply to competitors in all sports – individuals or teams: 'Rain, hail or shine I'll keep practising and keep focussed and hopefully reach that goal one day.'