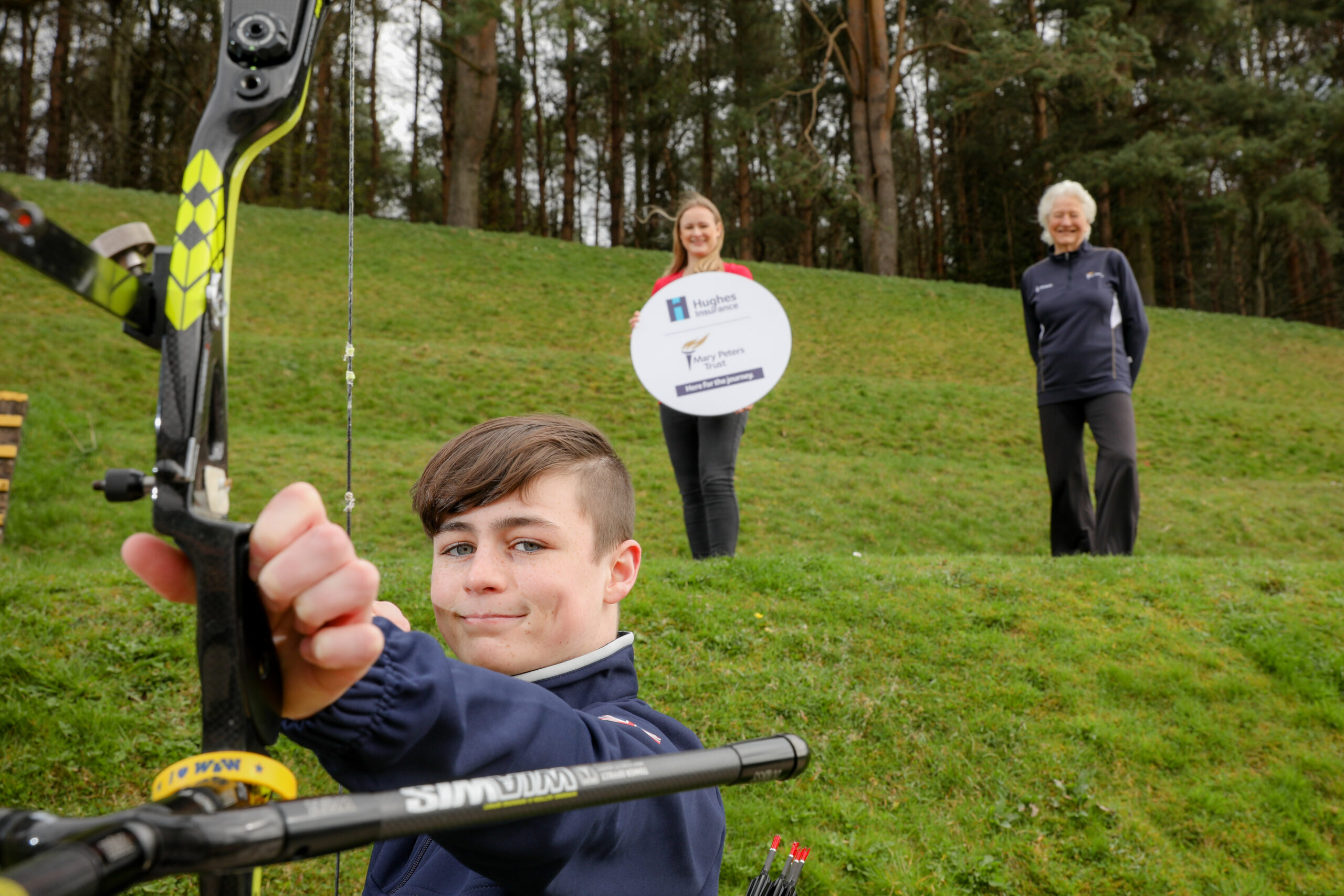 ARCHER, JACK DOHERTY, TAKES AIM AT WORLD CHAMPIONSHIPS
Hughes Insurance and Mary Peters Trust award Carrickfergus teen £500 bursary
Hughes Insurance, as part of an ongoing partnership with Mary Peters Trust, has today announced Carrickfergus teen, Jack Doherty (16), as the third recipient of a £500 bursary.
Jack, who began his sporting career in archery at the age of eleven, is a member of City of Belfast Archers is hoping to represent Great Britain and Northern Ireland in the 2021 World Archery Youth Championships, taking place in Poland this August.
Lady Mary Peters said: "I'm delighted that my Trust's partnership with Hughes Insurance can support talented athletes like Jack. It has been a challenging time for our young athletes with the Covid-19 pandemic affecting training and competing, so our bursary programme has become an important
opportunity to remind them that their talents are recognised. I congratulate Jack on being selected and wish him a bright future in competitive archery."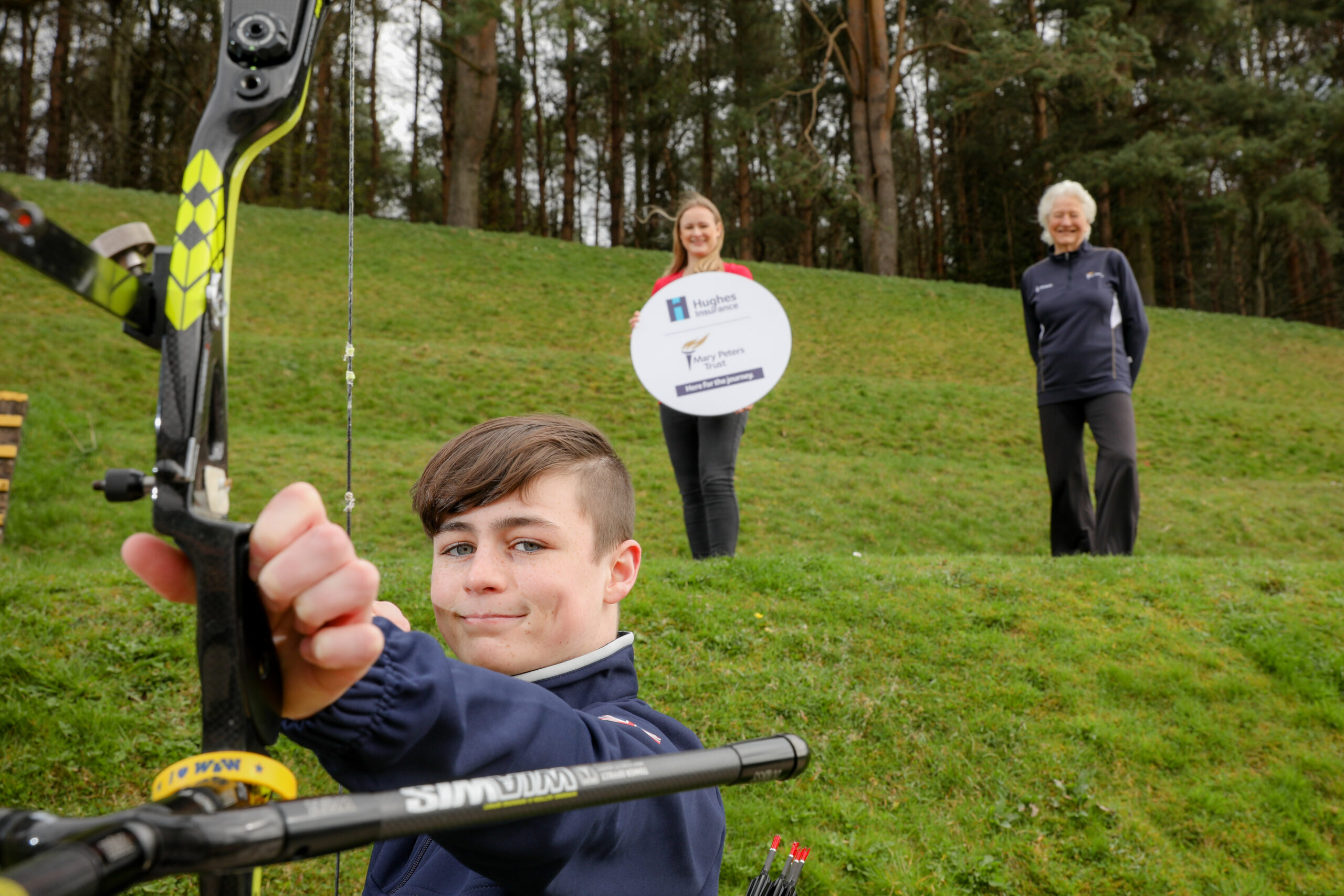 Jack, who won Northern Ireland's Senior Archery Championship just before the first lockdown, recalls Covid-19 upsetting his training regime but also giving him opportunity to get stronger. He said: " During the pandemic, I had to stop shooting and could only train in my garage. I would take videos that my coach could analyse, and we would sometimes have virtual sessions to improve any technical issues which helped me keep my form. As my shooting was reduced, my coach created a strengthening and conditioning programme which has made me stronger using my bow and will help
to prevent injury.
"My immediate goal is to make the team for the World Championship later this year. My long-term ambition is to move up the pathway to the Conversion Academy which sits just below the National Squad which help me to realise my dream of being a future Olympian, just like Lady Mary. I'll hopefully be travelling a lot for competitions this year and the bursary will help with the costs or allow me to upgrade my equipment. It feels great to be recognised."
Archery requires a demanding a range of skills including a steady hand, strong shoulders, flexible muscles, a keen eye and a cool disposition. Interestingly target archery did not become a permanent fixture of the Olympics until Munich in 1972, the same year that Lady Mary Peters competed and
won gold.
Harriet McCandless, Senior Marketing Manager at Hughes Insurance said: "Our partnership with Mary Peters Trust is really important to us as it allows us to support young athletes from across Northern Ireland on their sporting journeys. We look forward to awarding more athletes like Jack
throughout 2021."
The Mary Peters Trust is the only province-wide organisation to provide support to young athletes from all recognised sports. The further six successful bursary recipients will be announced throughout 2021. To keep up to date with the selection, follow Hughes Insurance on social media, @hughesinsuranceni. For more information on Hughes Insurance visit hughesinsurance.co.uk