Mary Peters Trust are asking you to support their young athletes by donating £10. You will receive a limited edition Mary Peters Trust snood and make a donation to support young people in sport. The snoods make an ideal Christmas present and are so handy as we move into the winter months!
Click here to make your donation and specify £10. The snood will then be sent out to you.
Please read our supported athlete Katie Poots story about the importance of wearing a mask.
Northern Ireland's top schoolgirl golfer, whose grandfather died from Covid-19, is urging people to heed restrictions and prevent other families having to experience painful loss.

Katie Poots lost her grandfather Allen McGregor (76) to the virus in April.

She wants to see more people wearing face masks, socially distanced and washing their hands, the basic health messages.

Allen's sudden passing came as a huge blow to his wife Brenda, daughters Alison and Debbie, sons-in-law of John and John and five grandchildren Katie, Molly, Erin, Evie and Jack.

He was a familiar face on the green at Knock Golf Club, travelling up from his home in Dromore in Co Down every Saturday to proudly watch Katie tee off and practice.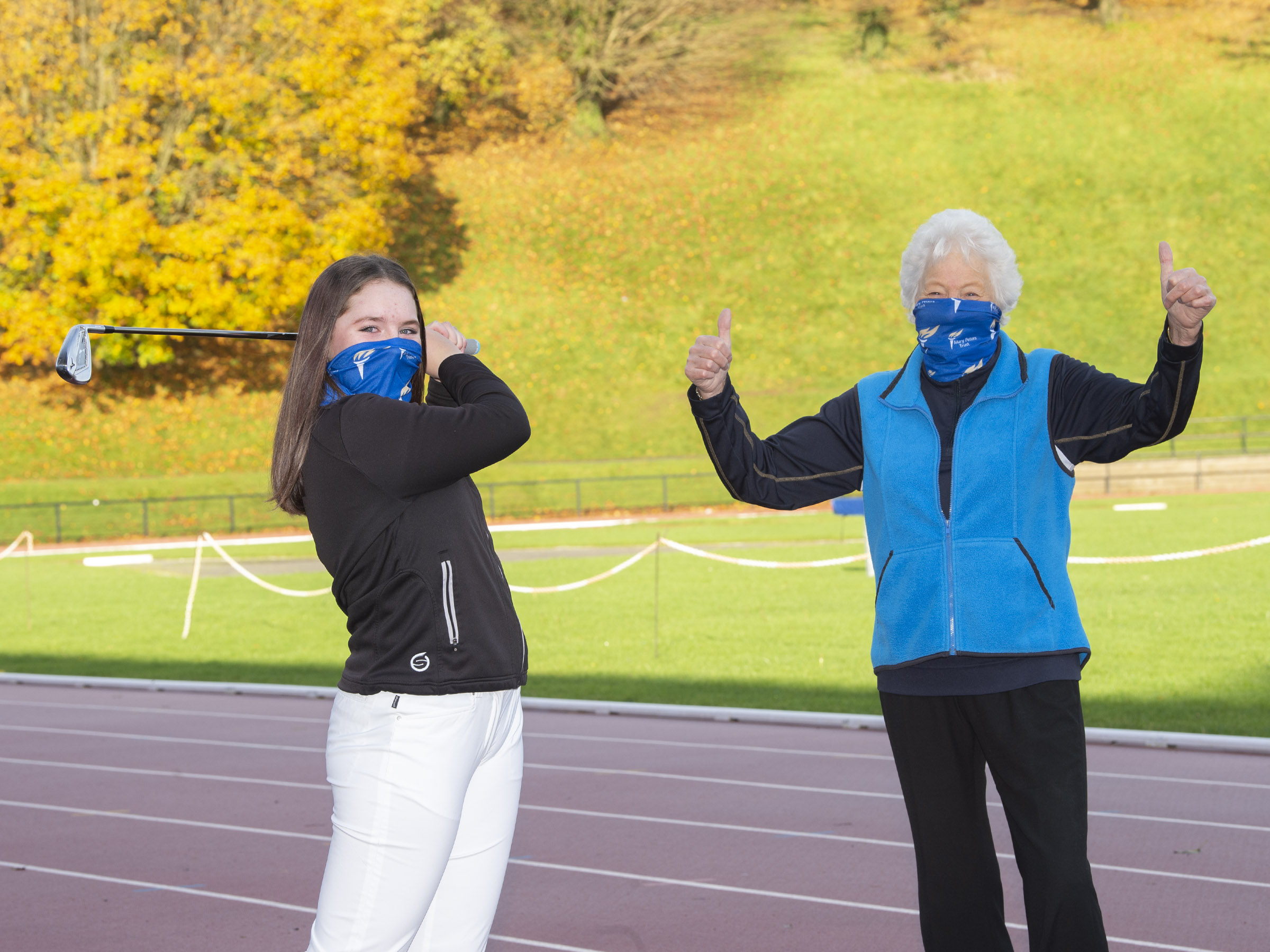 "Daddy passed away in Craigavon Hospital on April 3rd at the very start of the pandemic," Katie's mum Alison explained.

"We don't know how he contracted the virus because he was a very fit and active man for his age. He went into hospital on the Monday and died on the Friday."

Like so many families, Covid-19 restrictions meant Allen's relatives were unable to give him the best possible celebration of his life, surrounded by people who knew him.

"Daddy was a very popular man and I know it would have been a big funeral but instead it was a private but personal farewell which I think would have made him proud," Alison said.

Another source of pride was Katie (15), who has represented Ireland at U16 level playing against Wales and England.

She currently plays for Ulster U18's and holds the Ladies' course record for Knock.

She also won both the U18 girls' trophy in Leinster in July 2019 and the U16 trophy at Seapoint in August 2020.

"Both my mum and dad were very proud of Katie and always boasted about how well she was doing to everyone," Alison added.

The Covid-19 pandemic has led to the cancellation of many of Katie's planned competitions across the UK during 2020.

"I wasn't able to be on the course for several weeks due to the lockdown so instead I was just chipping balls into a bin in the garden and working on my fitness levels," Kate said. "As soon as the clubs reopened in May I was there all day for as long as the light stayed.

"My dad John has always played golf and so I took it up from there. Whenever I wasn't at school, I was on the golf course.

"Grandad was always there every weekend too when I was playing in the ladies' competition and practicing and he got to know everyone at Knock."

Having experienced the pain of losing a loved one during the pandemic, Katie has this message for those still not abiding by the restrictions.

"Please wear a mask so no other family has to go through what we have experienced because it has been so terrible," she added.

"It really annoys me to see people still not doing it - it's not that hard and will save lives."

The Bloomfield Collegiate student is being supported by Olympic gold medallist Lady Mary Peters after being selected for funding from the Mary Peters Trust to aid her rapid rise to prominence in the sport.

The Mary Peters Trust is also promoting the wearing of face masks and has created its own range of coverings which are available on its website.

"The tragedy of Katie losing her granddad makes the importance of wearing masks and washing our hands regularly all too real," Lady Mary added.