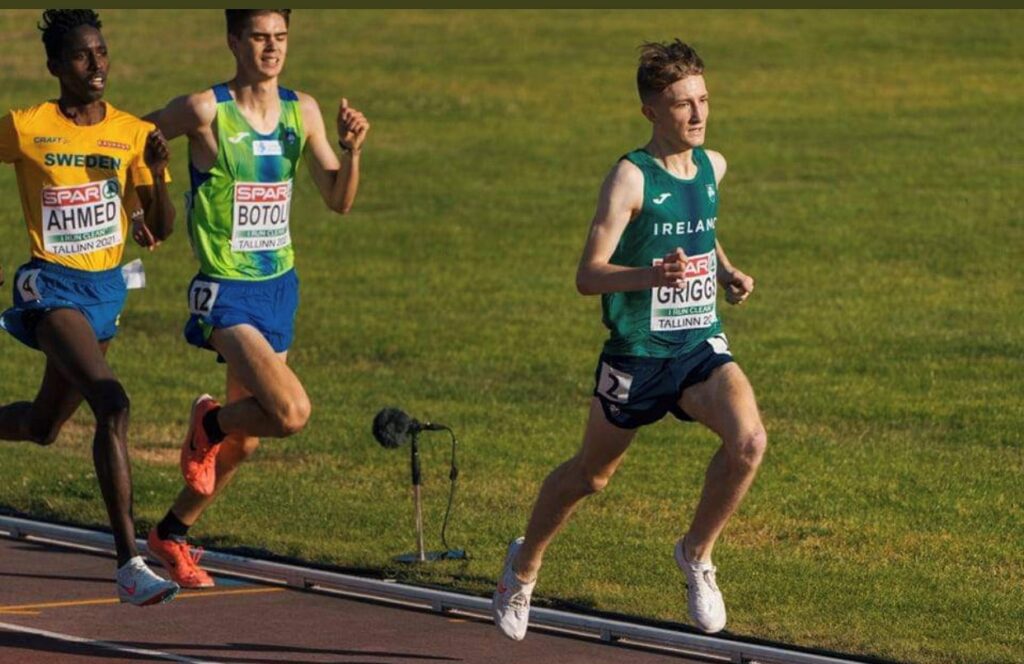 Mary Peters Trust athlete
Upper 6th at Cookstown High School studying RE, Geography and PE.
Achievement I'm most proud of
Winning the European Junior Championships 3000 metre title in Estonia – July 2021.
What is your current goal
To compete in a future Olympics Games
In 2012 Usain Bolt sparked a young boy's dream – now Nick's a runaway success
It all started with a 'lightning bolt' – but then slowed down to the 3000m middle distance event for Co Tyrone teenager and upcoming athletics star Nick Griggs.
Nick was a sprinter at school and his inspiration, Jamaican runner Usain Bolt. "I first watched Usain competing at the London 2012 Olympics. I sat in front of the TV and screamed the house down when he ran the 100m in 9.63 seconds. It sparked a dream that is still with me -to be an Olympian and win a medal.
"The Olympics have always held a fascination for me. It's the pinnacle of competitive sport. I can aim for Paris 2024, LA 2028 and even Brisbane in 2032 as I'll still only be 27 then!"
It was at a sports summer camp in his P7 year that Nick first tried out middle distance running and then went on to do cross country trials through Cookstown High School. His family are all sporty and Nick's dad played tennis and squash. Nick and his elder brother Josh both went to Cookstown High School and got involved in so many different sports including Gaelic, soccer, rugby and running. Josh was a very talented Gaelic Football player and a member of Brackaville Owen Roes GFC until his sad passing in June 2021. Nick is still part of the Brackaville set-up and brother Josh would definitely be incredibly proud of everything that Nick has achieved since the summer of 2021.
"It was absolutely amazing winning the World Junior Championships in the 3000m last year (July 2021). I'd won the Irish Junior 3000m in the June but went to Tallin in Estonia not really expecting to take the top spot. I was only 16 and it was my first proper international competition. Watching from home my family were so proud particularly as it had been such a very tough time for myself and them."
After doing really well in cross country events when he was in first and second year at school Nick was encouraged to join a club. He was playing different sports, staying fit but not specifically focussing on middle distance running. Aged 14 he became a member of high-profile athletics club Mid-Ulster AC in October 2019. Regular and proper training boosted his talents and Nick was coached there by Barrie Holmes up until his European success in Summer 2021.
"Barrie has been fantastic for me, looked after me and motivated me for well over two years. I'll always be thankful to him for everything he has done. It was Barrie who spoke to my mum after Tallin and recommended I move to top professional coach, Mark Kirk. Barrie felt he had done as much for me as he could. It really is the sign of a great coach to give up training an athlete for that person's greater good. I'll never forget that.
"Mark Kirk took part in two Commonwealth Games running in the 800m and 1500m so he has lots of experience of elite competitions and is one of the best coaches in Ireland."
Nick himself does compete in the 1500m and 5000m, but his ultimate favourite event is the 3000 metres. His biggest challenge came this summer (2022) at the World Junior (U20) Championships in Columbia, South America.
"It was my first trip outside Europe and competing against East African runners was an amazing experience. Kenya, Ethiopia and Uganda have so many middle and long distance running champions.
"However, it's great to challenge these stereotypes and one of my heroes is Norwegian runner Jakob Ingebrigtsen. He won the gold medal in the 1500 metres in Tokyo and from then on has been a big influence on me."  Jakob chalked up a gold and a silver this year at the World Championships in Oregon and two golds recently in Munich at the Europeans clipping almost three seconds off the old 1500m European record set in 1994.
Nick pays tribute to many people for support and encouragement. From coaches and Mid-Ulster AC to Cookstown High School and his dedicated parents who drive him wherever he needs to go (though Nick does hope to pass his driving test soon).
The Mary Peters Trust started supporting Nick in October 2021 and their funding he says is fantastic. "I'm very grateful to Lady Mary and the Trust as without their support I couldn't progress and develop as an athlete."
Nick is also one of five athletes who have each benefitted from a special £1000 bursary provided jointly by enthusiastic Mary Peters Trust supporters David and Joan Magill alongside their children and grandchildren. David, who passed away in November 2021 aged 86, was a generous, hardworking, and fearless person in the worlds of business, community, volunteering, family and sport.  These athlete ambassador awards are to mark David's contribution to local sport and are helping five young athletes to improve, develop and reach their full potential. The family plan to continue supporting the Trust.
Cookstown High School has also been a huge catalyst and Nick pays tribute to the school and in particular PE teacher Richard Kerr. "After all, if school hadn't encouraged me to do cross country running, I would never have got into middle distance events!"
Currently studying A Levels in RE, Geography and PE, Nick is honoured to be Head Boy at school during 2022/23. "Academically or career wise I'm not sure what I'd like to do. I may take a gap year or study for a sports related degree. I've recently secured a professional contract with Puma and I would really love to become a professional athlete. But I plan to keep my options open and really enjoy my sport each and every day."
Nick's words of inspiration: "If you're not willing to hurt, you are wasting your time."