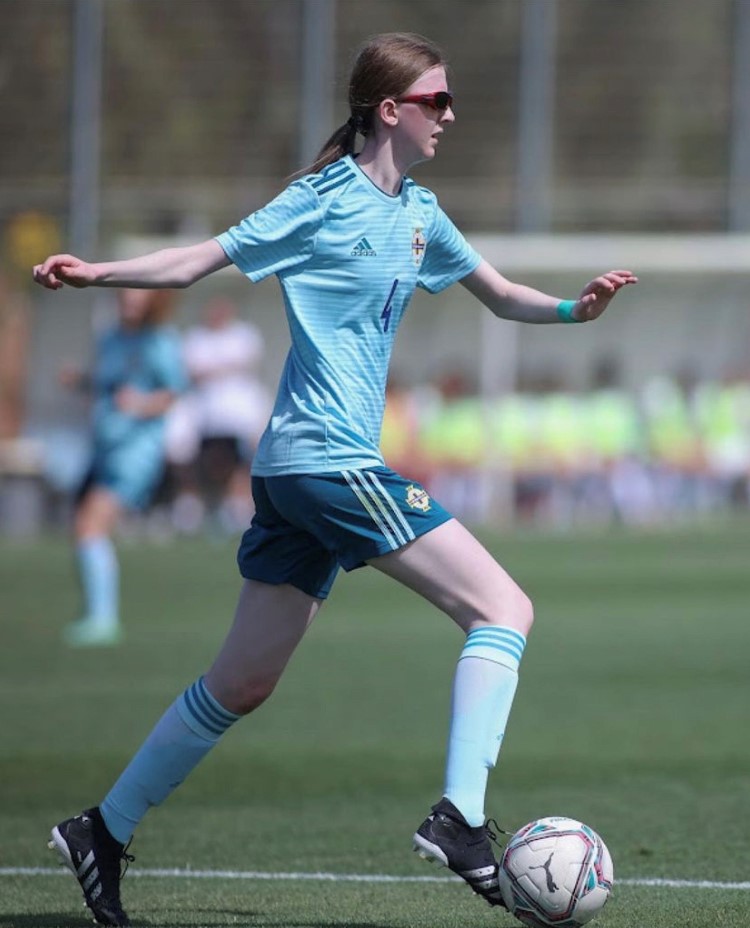 Mary Peters Trust athlete
Studying GCSEs at Regent House School
Achievement I'm most proud of
Getting selected for and playing in the U17 Euro Qualifiers for NI
What is your current goal
Play in the second round of Euro qualifiers and win the League and Cup with Glentoran.
Recent signing for Glentoran, Olivia, is over the moon to be an MPT athlete
Talented young footballer and Regent House pupil Olivia Canavan (16) has recently collected her first Mary Peters Trust funding award. Signed this season by Glentoran Ladies, the defender is now training with the senior squad as well as playing for their U17, U18 and U19 teams.
"I'm totally over the moon to be able to call myself a Mary Peters Trust athlete and join an elite and wonderful group of sportspeople from across Northern Ireland.
"I first became aware of Mary while competing in athletics for my school, Regent House and learned about her pivotal role in supporting athletes and their competitions.
"However, it was through my aunt, Kelly Gallagher, who won Paralympic skiing Gold at Sochi in 2014 and was also supported by the Trust, that I got the inside track on Mary and her commitment over the years to helping so many sportspeople in very different areas of sport."
It was Olivia's brother Josh who inspired her to take up football, "I wanted to copy my older sibling and my goal was to be better than him! But I also enjoyed being part of a team and playing alongside boys challenged me and made me play better. They were certainly never easy on me.
"What I still love most about football is the team. All the players, managers, coaches and staff are a team. You lose together, win together and you all learn together. Everyone plays a part in the result whether they step on the pitch or not."
Olivia joined Bangor FC Ladies senior team aged 15 and had a fantastic two seasons before joining Glentoran Ladies this year. Olivia is currently part of the NI Elite Development Programme and has represented Northern Ireland at U17 Level. Her proudest moment is getting selected for and playing in the U17 Euro qualifiers.
In terms of NI Ladies footballers, Ashley Hutton is a player Olivia looks up to – even though she plays for Glentoran rivals, Linfield Ladies. "Growing up watching Ashley's football journey and then seeing her play in Northern Ireland's first major tournament at the Euros was a pretty cool experience." Outside Northern Ireland Olivia's favourite player is England's Lucy Bronze. "Lucy was totally determined to be the best despite her injuries and other obstacles she faced.
"My personal goals for 2023 are to play in the second round of Euro qualifiers and win the League and Cup with Glentoran."
Funding support from the Mary Peters Trust has enabled Olivia to purchase brand new prescription sports goggles. Whilst she certainly doesn't let it hold her back, Olivia has been diagnosed with Congenital Stationary Night Blindness (CSNB). It's challenging for Olivia to make out clear, defined features and she plays football and identifies her teammates by focusing on colour, shapes, movement and voice recognition. 
"At the moment I'm really enjoying my game. As for the long-term future, I'm not sure how far I'll be able to go, and I've learned to be OK with that. I really hope to be involved in the game at some level either on or off the pitch. 
"Trust funding has made it possible for me to buy specific goggles to help me continue to compete at a high level and I feel grateful to be supported by the Trust as it can help me progress in many other ways and I aim to a good ambassador and representative for all that the Trust does.
"My favourite subjects at school are biology, PE and maths and after this summer's GCSEs I would love to do biology, PE and psychology. Ultimately I'd like to a sports physio or psychologist and of course I'd like to stay involved in football as a player and helping other athletes as much as I can."