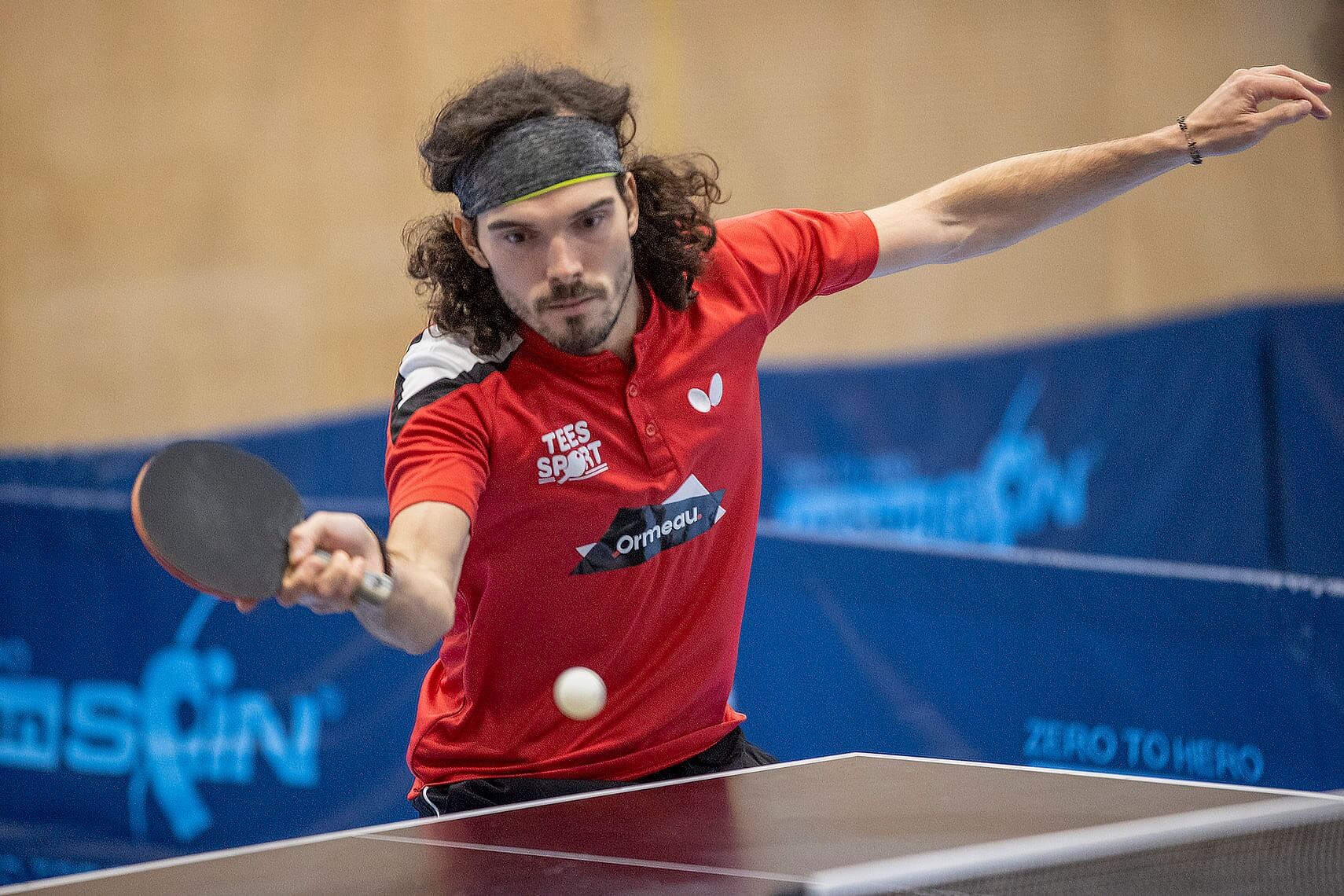 Mary Peters Trust athlete
I've two jobs! a freelance data consultant and a table tennis coach
Saintfield (and Nottingham where I train regularly)
Ormeau Table Tennis Club, Belfast
Achievement I'm most proud of
I can't choose between these two – being four times Irish National Champion and reaching the quarter finals at Alexander Palace in Ping-Pong World Championships. Such an amazing event with a live audience and was broadcast on Sky Sports.
What is your current goal
At the Gold Coast Commonwealths in 2018 the NI men's team reached the quarter-final stage. This year at Birmingham I'd like to go one step further and win a semi-final place.
Fast and furious – table tennis stalwart Paul just loves acing-the-game

He may be only 30 but Saintfield man Paul McCreery is already a Commonwealth Games veteran. His first time at the Games was back in 2010 in Dehli, followed by Glasgow, then Gold Coast, Australia. With Birmingham 2022, Paul chalks up his fourth. When asked does it get any easier- his reply is yes as with experience he knows much better how to prepare both mentally and physically. He knows exactly what he is up against.
"At this stage in my life with numerous international tournaments and three Commonwealth Games under my belt I'm much more conscious of what type of preparation I need to do. I'm fully aware of not overdoing the training and ending up knackered at the Games.
"I'm also more team focussed and want the very best for us as the NI table tennis team. With the experience I've built up, I've taken on a leadership role helping and supporting our younger athletes."
At the Gold Coast in 2018 the men's table tennis team reached the quarterfinals. This summer Paul wants to go one step further and help the team achieve a semi-final spot.
Paul's love of table tennis started back in his primary school days when he took up the game at Inchmarlo around the age of 5 – and he also played a lot with his dad at home.
"I just loved the game. I got better and better and that was so addictive – and I wanted more. Table tennis is very challenging and at competitions you get to play against a whole range of different opponents and learn from them.
"I began competing for Ireland aged eleven and for over 20 years I've been coached by Jing Yi – who currently looks after the NI Commonwealth Games team. Through Jing Yi I was able to take part in fantastic training camps in China. These were in depth summer camps, lasting two months each time and I was lucky enough to benefit from them for several years."
Table tennis is of course China's national sport with hundreds of millions of people playing it and the top players work incredibly hard backed by huge resources and the very best coaches.
"Jing Ye has been incredible. She's lived in Northern Ireland for over 20 years and has gained a lovely local accent now. The NI team is very fortunate to have her as our high-performance lead."
Paul also pays tribute to his club – Ormeau Table Tennis Club which is based at The Mount in East Belfast. He's been a member for many years and his dad still plays there.
"Ormeau is an amazing club which has grown and developed massively over the years since I first joined. It caters for all abilities and all ages and for players with disabilities. The club facilitates training and games for people with learning disabilities working with charity, The Skyway Club. It's a great organisation which helps support adults with learning difficulties through a range of vibrant and creative projects. My club Ormeau also helps older people to keep active. Table tennis is very good for 'brain health' – you have to react fast and anticipate what your opponent is going to do. It's so mentally stimulating and that's why it's brilliant for brain health."
Paul has been supported by the Mary Peters Trust since he was 13 (in 2005) and he continues to receive funding from the sporting charity which he values massively. "The help I've been given from the Trust has been fantastic – I simply couldn't have done all my international travel without it."
Paul also pays tribute to his alma mater Inst (RBAI) in Belfast. "Prior to London 2012 the British Table Tennis Federation were pushing the sport and I was on a Development Programme. The Principal and teachers at Inst were so understanding as I was away from school a lot due to the programme and tournaments. They even facilitated me sitting my A- Level exams in Moscow while I was playing in the 2010 World Team Championships."
And it didn't do Paul any harm as post A-Level he secured a place at Nottingham University studying engineering at undergraduate level and then secured a Masters in Business Management.
"Nottingham University has been incredibly supportive of my table tennis and has afforded me fabulous training opportunities. The facilities are world class – pristine tables, lots of space and great coaches. Nottingham is my second home and I'm there a lot because of training and of course to be with my partner who is based there.
"During my school days at RBAI, I would also have spent one week every two months at the Sheffield based National Institute of Sport to practice with the British Development Squad."
In terms of his best sporting moments to date, Paul can't choose between two very different achievements; being four times Irish National Champion and reaching the quarter finals at Alexander Palace in Ping-Pong World Championships.
"Table tennis is of course a big focus and for a year as an 18-year-old I played professionally in Montpellier, France. After the 2018 Commonwealth Games and whilst I was working for PWC in London I concentrated on the World Championships of Ping-Pong up to 2021. It was such good fun and I'm really proud of reaching the quarter finals of the Ping-Pong World Championships. It was broadcast live on Sky Sports from Alexandra Palace in London.
"It was an amazing event just before COVID hit the world. I even secured a match point to go through to the semis at one stage – but sadly I had to be content with reaching the quarter final. The Championship was organised by Matchroom who look after the big snooker and darts tournaments, and it had the same mad, noisy vibe and audience participation. They introduced a range of new rules including sandpaper bats, double point balls, walk-ins and all my mates could get VERY close to the courts. Simply brilliant craic."
"My work colleagues at PWC didn't know about my table tennis or ping-pong skills and a few years ago someone senior decided to organise a UK wide work social at the Shoreditch (in London) based Ping-Pong bar – Bounce. They were gob smacked when I won!"
Whilst Paul loves the game there are only a small number of people worldwide who can earn decent money via table tennis. Paul's work as a freelance data consultant as well as part-time table tennis coaching pays the bills.
He's currently working with a social enterprise called Code Division as a data tutor. Code Division's mission is to reduce digital inequality in tech and offer fully-funded courses to communities who need them most. Paul is helping them launch their commercial courses in Power BI (a Microsoft Business Intelligence software). Proceeds from the course will help further fund Digital Skills training for under-represented and disadvantaged groups.
Paul is also in the process of setting up a business in collaboration with Nottingham University. "I'm working on developing a soft drinks product to help people's 'gut health.' It's all very exciting and we hope to launch in the near future."
But for now, Paul's key focus is Birmingham, the NI Men's Table Tennis team and that goal of reaching the semis – and maybe beyond.
Paul's words of inspiration: "Play one point at a time. Cultivate the mindset you want to have. Speak kindly to yourself. Surround yourself with people who challenge you and lift you up at the same time!"