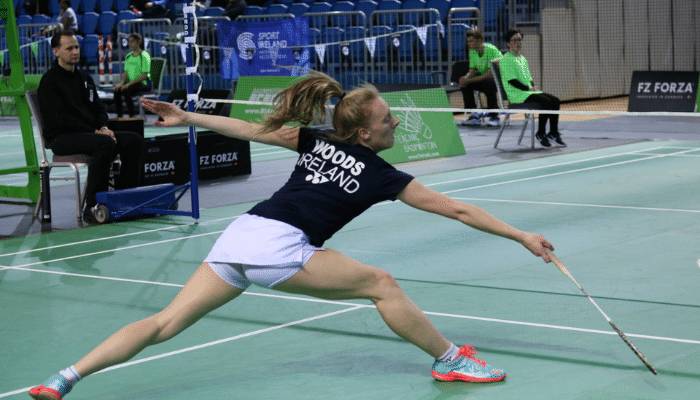 Mary Peters Trust athlete: since 2013
Badminton a family affair for Rachael, with mum, dad and siblings also acing the game
Rachael Woods first picked up a racquet aged five and she has a vivid memory of her mum throwing plastic shuttlecocks which she then hit back, building up her badminton skillset at an early age. Both her parents also play badminton with Rachael's dad having a pivotal role as manager of the National Badminton Centre (NBC) for over 30 years and her mum running a sports retail outlet at Lisburn Racquets Club for the past two decades. Badminton is certainly in the family's DNA. Rachael and her sisters are clear they owe a huge debt to their dad who has travelled with them to competitions throughout the UK, Ireland and Europe coaching and supporting them. Rachael says, "We certainly wouldn't be where we are today without dad's help."
A third-year civil engineering student at the University of Nottingham, Rachael is a member of Lisburn club, Alpha Badminton but also plays for her college team in England. Twin sister Rebecca has been her doubles partner since day one, but they also compete against each other in singles competitions. Rebecca is studying at Loughborough University so is not far from Rachael and they 100% support each other in all their endeavours. 
Both are dreaming big at the moment with qualification for the summer's Commonwealth Games in Birmingham on the goal sheet. Upcoming competitions which will help with gaining qualification points are the Portuguese International series and the Polish International Challenge, both taking place during March. 
Younger sisters Chloe and Paige also play badminton and the four sisters set a special record a couple of years ago when they played for the school team at Lisburn's Hunterhouse College. They won the 2019 All-Ireland Schools Finals and the record still holds. 
Rachael has benefitted hugely from Mary Peters Trust awards and fondly recalls going to her first awards ceremony in Belfast. "Playing badminton has really helped my confidence and enables me to think big about life and work as well as sport. I've been privileged to secure support from the Trust which has allowed me to travel to European competitions and push myself to the limit. 
"Qualifying for the Commonwealth Games will be a tough challenge but one that both myself and twin sister Rebecca are well up for. Getting to the Games is my top goal at the moment – I'm not thinking about any other sporting ambitions just at the moment. Jobs wise I am due to graduate in July 2023 and I'll hopefully be working within the construction industry helping to build reservoirs, bridges and airports." 
But for now, Rachael is concentrating on building strong foundations to try to book her place on the NI Commonwealth Games team for Birmingham 2022. 
Rachael's words of inspiration: "Many people may promise you the stars but only you can reach them."