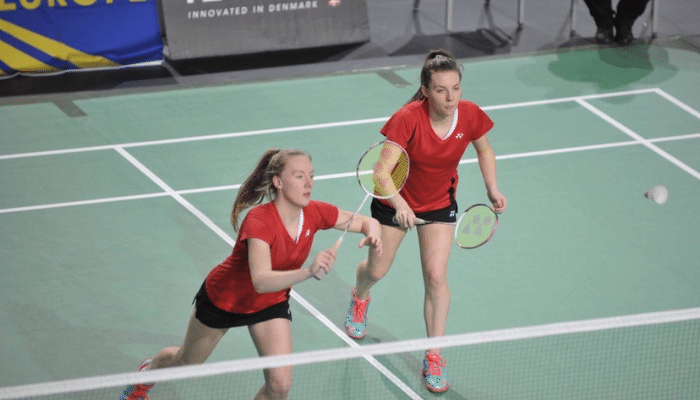 Mary Peters Trust athlete: since 2013
Loughborough receptionist role keeps Rebecca in touch with sporting icons
To help generate cash for student living, badminton player Rebecca Woods works as a receptionist at Loughborough University's various sports complexes. Shifts at both the pool and the athletics centre means the Lisburn girl regularly encounters Olympic medallists such as swimmer Adam Peaty, boxer Frazer Clarke and triathlete Alex Yee. 
"I love my part-time job and it's both amazing and inspirational to meet so many top athletes from very different sports."
Rebecca is studying geography and business management at Loughborough and like twin sister Rachael, her key current goal is achieving a place on the NI Commonwealth Games team for Birmingham 2022. 
"A dream come true would be to compete in the Ladies Doubles with Rachael."
Rebecca and Rachael have been playing badminton since early childhood and it's an integral part of family life. Their dad is manager of the National Badminton Centre (NBC) and coaches all her siblings as well as other local badminton players. Rebecca's mum runs a retail outlet at Lisburn Racquets Club and one of Rebecca's earliest memories is of her mum combining a weekly fun badminton session with maths tutoring followed by eats and treats to help improve Rebecca's primary school mathematics.
"I also recall Saturday morning match plays and our very first 'English Gold' events across the water. I've great memories of playing top GB competitors which really helped improve my game. 
"The Mary Peters Trust has been instrumental in enabling me to travel to so many different tournaments in the UK, Ireland and Europe, which has helped both myself and Rachael to develop our skill and technique by playing our peers at the highest level. I'm so grateful for the many opportunities the Mary Peters Trust has afforded me."
Rebecca says having her twin sister as her doubles partner is extra special as they know one another's game inside out and can instinctively anticipate each other's moves undoubtedly giving them an advantage if they secure that coveted ladies double place for Birmingham this summer. Both will take part in March's Polish International Challenge and Portuguese International series in a bid to gain qualification points. 
During various Covid lockdowns the family 'bubbled up' and played a lot of badminton together. "It's fantastic that we all love badminton so much and never get tired of competing against one another. My younger sisters Paige and Chloe, who are still at Hunterhouse College, are really coming into their own. When Rachael and I are at home we play against them a lot, help them with their technique and it's clear our input is having an impact."
Youngest sister Paige (15) won a silver medal in the mixed doubles and reached the singles semi at a recent 'English Gold' event held in mid-January. 
Next September Rebecca is due to begin a year's work placement either in England or Northern Ireland and ultimately will graduate in July 2024. She hopes to eventually take up a job in environmental consulting or in GIS (geographical information systems) working on construction projects.   
Until then Rebecca's focus is firmly on her badminton game and hopefully competing in this year's Commonwealth Games. 
Rebecca's words of inspiration: "Dreams don't work unless you do."