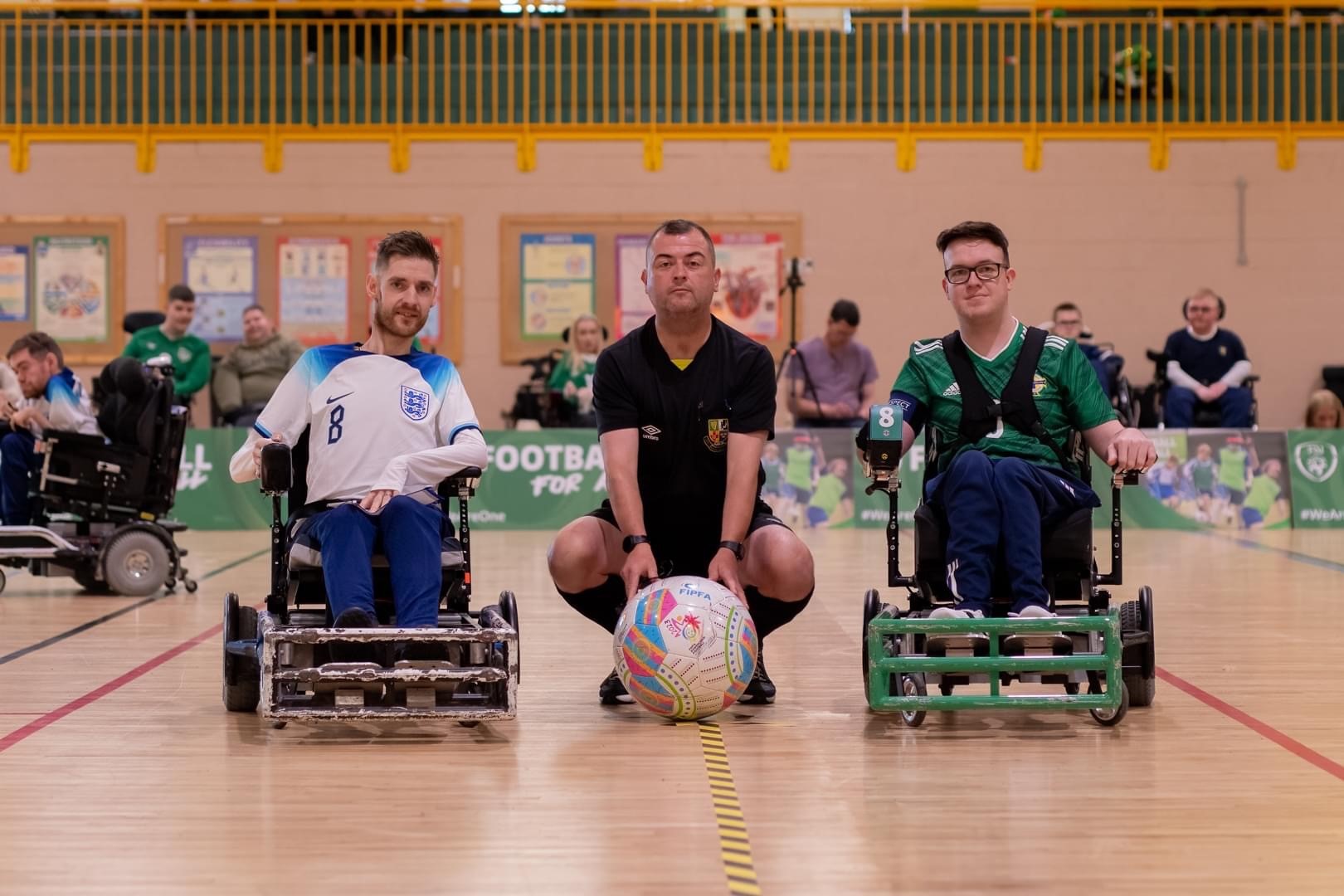 Mary Peters Trust athlete
QUB degree in Economics, now an economist in the Civil Service
Achievement I'm most proud of
being appointed Captain of the NI Powerchair Football team
What is your current goal
to cause a few shock upsets when playing in the Powerchair Football World Cup, October 2023
Trailblazer Scott helps steer Powerchair football
into new era locally
A founding member in 2010 alongside his dad Michael, of powerchair football team the Belfast Trailblazers, Newtownards man Scott Hilland is now captaining a six-member Northern Ireland squad. The squad is heading off to participate in NI's first ever Powerchair Football World Cup during October 2023. Captaining the team is the achievement Scott is most proud of to date.
'Growing up in a football mad family, playing for Northern Ireland was beyond my wildest dream. And now to captain my country is such an honour and a privilege. Getting involved in the sport was lifechanging for me. It has such a huge impact on people with a disability when they play it.'
Whilst it's still relatively new to Northern Ireland, Powerchair football is the fastest growing disability sport in the world. Derived from soccer it's an indoor game which is played 4-aside in an adapted basketball court and players can be subbed as often as the coach feels is merited. Players use specially designed powered wheelchairs equipped with footguards to attack, defend and spin-kick an over-sized (330mm/13-inch) football and ultimately score goals.
Scott says, 'People expect it to be a slowed down version of bumper cars coupled with 5-aside soccer, but once they watch it, they can see just how fast paced it is and how talented players need to be. When you strip it all back it's still The Beautiful Game with two teams trying to get the ball in the net.'
It's a sport that has the potential to grow even bigger in Northern Ireland but one that has come a long way since 2010 when Scott and his dad Michael first contacted Alan Crooks in the IFA (Irish Football Association) after doing research online about disability football. The sport is huge in England and the national team is in the top tier globally having won the Euros trophy in 2019.
In March 2023 Scott was part of the Belfast Trailblazers team who clinched the All-Ireland AIPF League. His team beat Midlands United to win the major title. It caps several accolades Scott has achieved in recent times including the 2018/19 Ulster Disability Footballer of the Year and receiving an Honours award for his Powerchair Football achievements whilst studying at Ards based Regent House Grammar.  
On leaving school Scott completed an Economics degree at Queen's University Belfast, graduating in 2019 and now works as an economist for the NI Civil Service. Work is very supportive and proud of his achievements. As are his family. Scott's dad Michael is heavily involved in powerchair and has played soccer in the past. 
In addition to helping set up Belfast Trailblazers, Scott's dad Michael also coaches them and assists with the Northern Ireland team alongside manager Alan Crooks from the IFA. Scott's older brother Jamie has lived and breathed football from an early age, and alongside playing in amateur leagues he's completed a referee course for powerchair football which enables him to officiate at Northern Ireland training. Mum Joanne is an avid supporter and drives Scott to games. It's a real family team effort.
In terms of its history, powerchair football was first played in France in the 1970s and was also known there as Foot-fauteuil. The French substantially developed a strong league set-up and a national championship. Canada also devised a similar game which spread to Japan. With various forms of the game developing concurrently in Europe and North America, international delegates from the sport finally adopted universal rules and finalised a constitution naming the governing body as the Federation Internationale de Powerchair Football Associations (FIPFA) in July 2006. Bids to be included in a future Paralympic Games have been put forward.
Meanwhile all eyes are on September's Powerchair Football World Cup taking place in Sydney, Australia. Northern Ireland training sessions are normally on Sundays but this has ramped up as the team prepare to make their World Cup debut. Ten teams will compete and as it's NI's entrée they are seeded 10th so Scott is realistic. His mission is to cause a few upsets and get the team noticed on the international stage.
The other teams are England, France, Denmark, Republic of Ireland, Argentina, Japan, USA, Uruguay and host nation Australia. The event takes place in Sydney's Olympic Park where the 2000 Olympic Games were held. It's a 'round robin' tournament and Northern Ireland will play all teams.
The first FIPFA World Cup was held in Tokyo in October 2007 with USA taking the honours. They also won a second consecutive World Cup in November 2011 when it was held in Paris. The last tournament in 2017 was hosted by the United States in Florida with France adding their name to the trophy. The upcoming World Cup was originally scheduled to take place in 2021 but naturally was postponed due to COVID-19. Northern Ireland qualified for the World Cup following a strong performance at the 2019 Euros tournament beating Finland and achieving 5th place.
'France will be a very tough opponent,' explains Scott, 'But also England who clinched the most recent Euros.' 
Like everyone in his family Scott is mad about football. In good and not so good times he's a loyal Manchester United fan and naturally follows the Northern Ireland senior men's team who have been an inspiration to Scott.
'I was lucky enough to be in France for the Euros in 2016 and saw every Northern Ireland game bar the first one. It was a fantastic experience.'
His Man U hero is Paul Scholes (a midfielder just like Scott) whilst midfielder and NI legend, Steven Davis is a real inspiration, 'I really like the way Steven carries himself on and off the pitch – he's a true role model. I've been privileged to meet him several times.' 
To help with their prep for the World Cup the NI Powerchair squad were joined by NI Seniors manager Michael O'Neill and four of the squad – Isaac Price, Ethan Galbraith, Dale Taylor and Callum Marshall for a training session. The senior players got into the chairs to learn and experience powerchair football and have fun at the same time. The session featured on BBC Newsline and on the IFA website. England players Phil Foden, Harry Kane and Jordan Henderson amongst others have similarly supported the England Powerchair team.
Scott stresses that playing competitively for both his country and All-Ireland league team has totally changed his life and he wants to help younger people like him to succeed and be our future stars in the sport.
'Way back I didn't think I would have these opportunities. It's been an amazing journey and one I'm still traveling on. I've learned so much in terms of social and communication skills. Also about developing resilience, to keep trying and never give up. I want to pass on that experience to younger people and get them involved in sports like powerchair football. We have players as young as 10 or 11 in our club at the moment and it's brilliant to see them progressing and finding their voices both on and off the court. Even though sometimes it makes me feel very old.'
'I've really appreciated all the support I've received from family, school and Alan Crooks and the team at IFA. Of course, I'm also thrilled to be a Mary Peters trust athlete and like all my NI team mates it's been amazing to be 2023 funded athletes. Travelling to training and competitions is costly and we all value the support – both financial and advisory – from the Mary Peters Trust.
'After we defeated Finland in the Euros my brother Jamie gave me a framed photo from the game with the words, 'In order to move a mountain you must first move the small stones.' It's this message I want to pass on to younger players. After the World Cup I'm looking to the next Euros and feel I've a lot to give. My long-term goal is to ensure Powerchair Football is in a very good place for future generations.'
Scott's mantra could apply to competitors in all sports – individuals or teams: 'In order to move a mountain you must first move the small stones.'