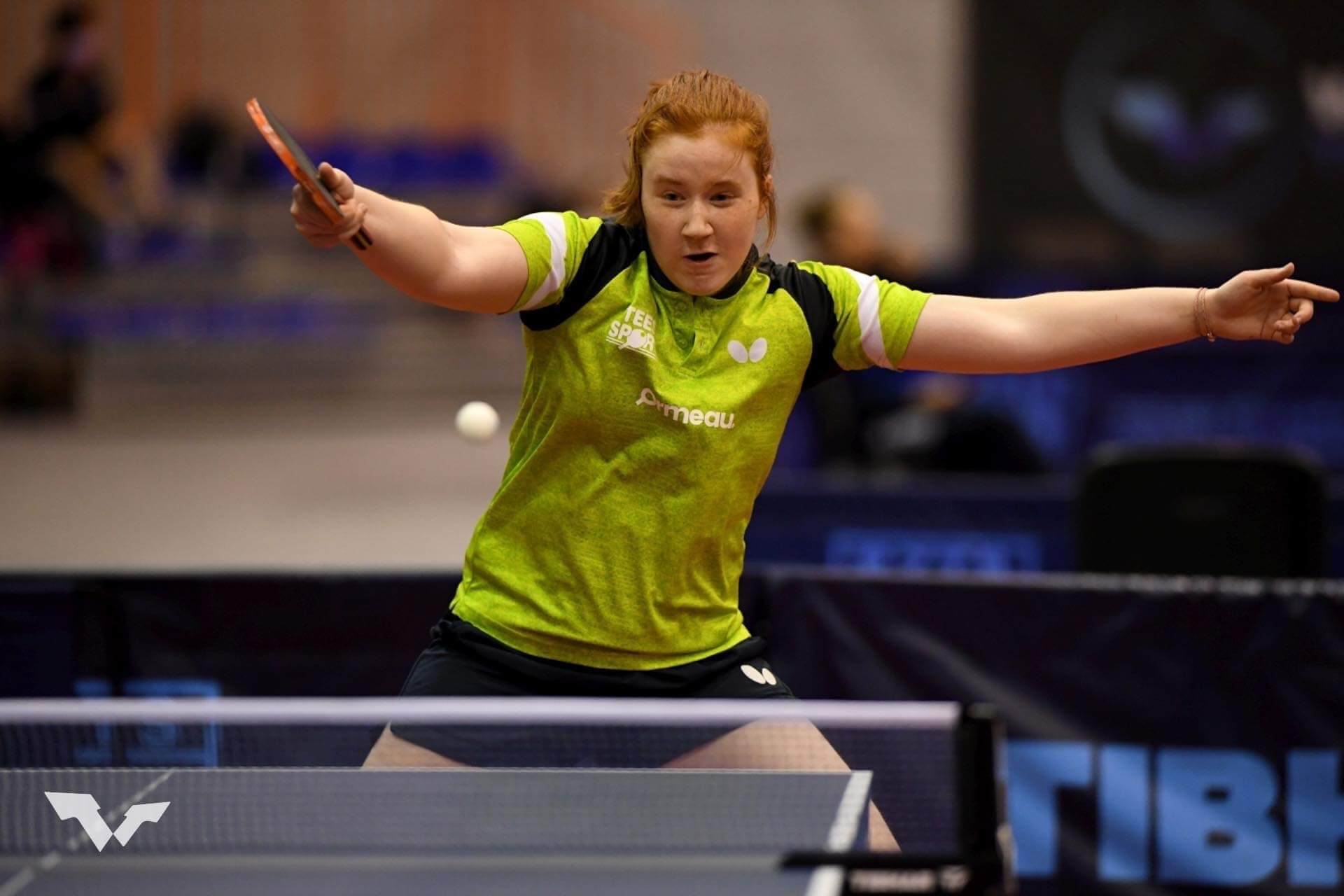 Mary Peters Trust athlete
studying online for A Level Biology and Psychology
originally from Carryduff but now living in Nottingham
Nîmes, France (played for Ormeau when in NI)
Achievement I'm most proud of
In June 2021 I was the first Irish table tennis player to win a medal at the Table Tennis European Youth Championships held in Croatia. I picked up two bronzes – in singles and ladies doubles.
What is your current goal
To do my absolute best at the Commonwealth Games. It's my first big 'Games' and a huge honour to be part of it.
Sophie is relishing a first Commonwealth Games
Fate is a strange thing. It was complete luck that Sophie Earley's twin brothers Zak and Thomas took up table tennis at school as it didn't run in the family. Sophie was always keen to copy her elder siblings, and so at the age of six she gave up her first sporting love – gymnastics – and concentrated on table tennis. Now the fast and furious sport is taking her to competitions all over the world, to her first ever Commonwealth Games and club membership of French team, Nîmes. Yet Sophie is still only 16. Having cut her teeth at Ormeau Table Tennis Club in Belfast, Sophie and her family recently moved lock, stock and barrel from Carryduff to Nottingham. It's here that Sophie trains at the elite David Ross Sports Centre based at the University of Nottingham. Her brothers (now 22) are training to be teachers and still play table tennis competitively. Sophie focuses on full-time training and is also studying A Level Biology and Psychology via a specialist online school. "At the Ormeau club I had a fantastic start and as well as playing against my brothers I got used to competing against lots of boys which really strengthened my game. Now I'm adapting a different 'female' approach and style – it's quicker, faster and closer to the table and requires sharper reactions. "I'm not playing for Nîmes professionally and only need to travel to France every few months to compete in league matches. In Nottingham I'm very lucky to be trained by former Commonwealth Games gold medallist and professional coach Alan Cooke. He's also part of the GB coaching team. The facilities here in Nottingham are the absolute best. "I'm also part of a new GB table tennis youth squad which is looking forward to future Olympics including Paris 2024 and Los Angeles 2028. We've a really good GB team – a mixture of youth and experience and with two years to prepare for Paris we could come good." Sophie recently teamed up with Ladies Doubles partner Anna Hursey (also 16) from Wales and in July 2022 they clinched a silver in the European Youth Championships held in Serbia. At Birmingham and representing Team NI Sophie is involved in the singles and the mixed doubles with Owen Cathcart. She was lucky enough to travel to Japan aged 12 and her table tennis has also taken Sophie to China and Qatar as well as so many countries across Europe. But it's the international friendships which endure that mean so much. "I've met a lot of people through the sport and my best friend is Ioana from Romania and another friend from Egypt is ranked No 1 in the World Juniors. "At the Commonwealth Games I simply want to do my best, learn a lot and allow the experience to help my long-term development. I've heard great things about the Games and it's my first big multi-sport event. I was part of the Sainsbury UK School Games – but the Commonwealths are on a totally different scale." In addition to coaches, her parents and her brothers, Sophie appreciates the huge support she has received from the Mary Peters Trust. Funded since 2017 she is also one of five athletes who have each benefitted from a special £1000 bursary provided jointly by enthusiastic Mary Peters Trust supporters David and Joan Magill alongside their children and grandchildren. David, who passed away in November 2021 aged 86, was a generous, hardworking, and fearless person in the worlds of business, community, volunteering, family and sport. These athlete ambassador awards are to mark David's contribution to local sport and are helping five young athletes to improve, develop and reach their full potential. The family plan to continue supporting the Trust. "Without Trust funding I wouldn't be where I am now in table tennis. It's so vital for me and many other young NI athletes. I also value Mary herself – her humbleness and down to earth approach. It's so inspirational and I very much respect her for how she conducts herself. She's a wonderful example of who I want to be. "My ultimate dream is to be in the World Top 20 of female table tennis players and to compete in an Olympics." With 10 years of table tennis already under her belt and medals to boot at only 16, it's a goal Sophie is well on her way to reaching.
Sophie's words of inspiration: "Each time you play it's part of the journey with uphills and downhills and often failures can lead to successes."