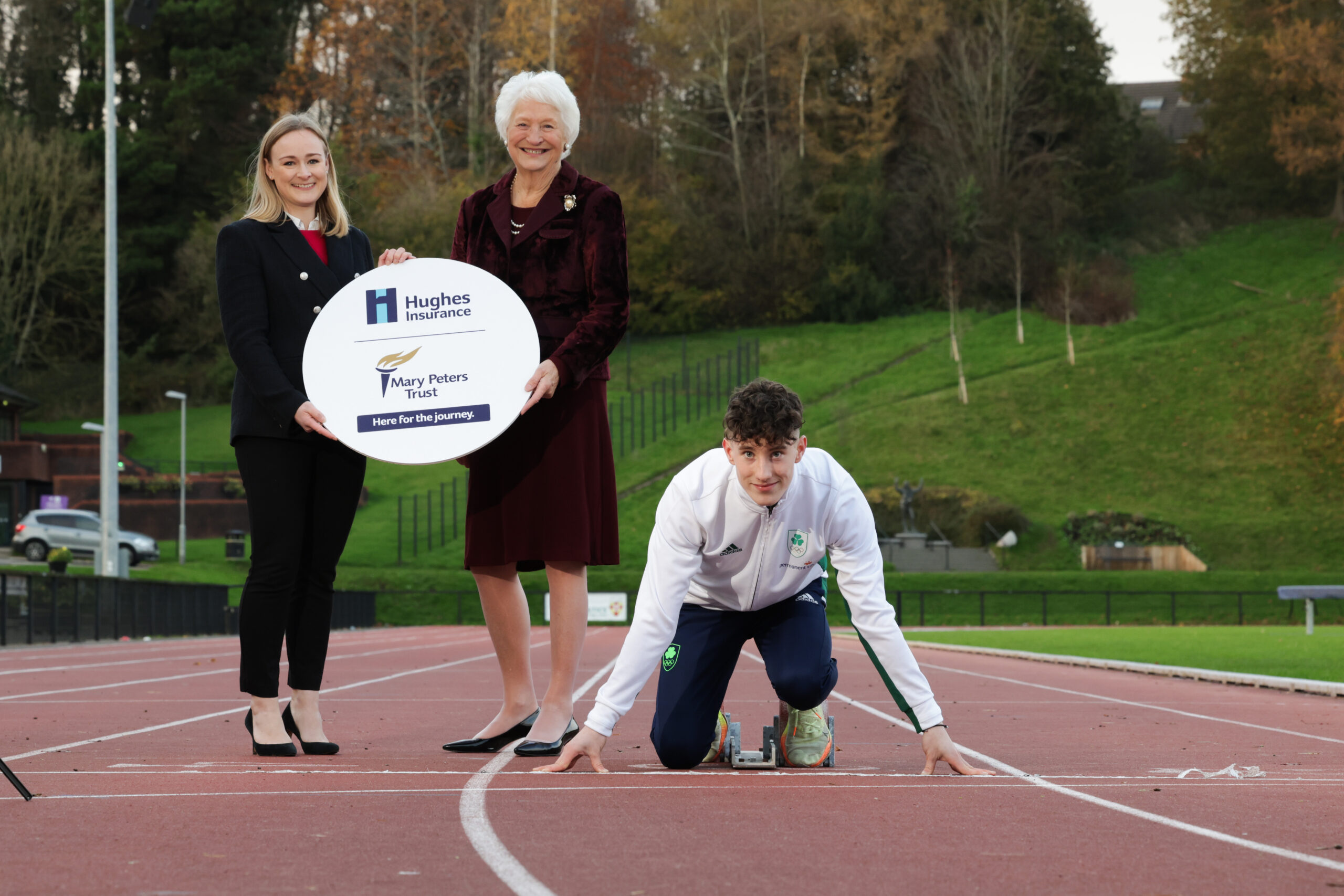 BURSARY HELPS RUNNER TOBY GO THE DISTANCE
Belfast teen is latest athlete awarded £500 to boost sporting journey
Toby Thompson, a 16-year-old from Belfast has been awarded £500 as part of the Hughes Insurance and Mary Peters Trust bursary programme. The athletics runner competed internationally for Ireland in the 200m Relay Medley at the European Youth Olympic Festival 2022 and holds several titles for Ireland in the indoor and outdoor 200m and indoor 60. He holds a personal best of 22.18 in the 200m.
Toby who trains with Ballymena & Antrim Athletics Club is the latest young sporting star to be selected by Lady Mary and her Trust as part of the bursary. In partnership with Hughes Insurance, the programme now in its second year, awards funding to ten young athletes across Northern Ireland, recognising their outstanding achievements and providing essential support as they continue on their sporting journeys.
Lady Mary Peters said: "It's fantastic to see young people across Northern Ireland with commitment and passion for athletics, which often takes me back to my competitive days. Toby is a great competitor who has a bright future ahead of him and the talent to go the distance.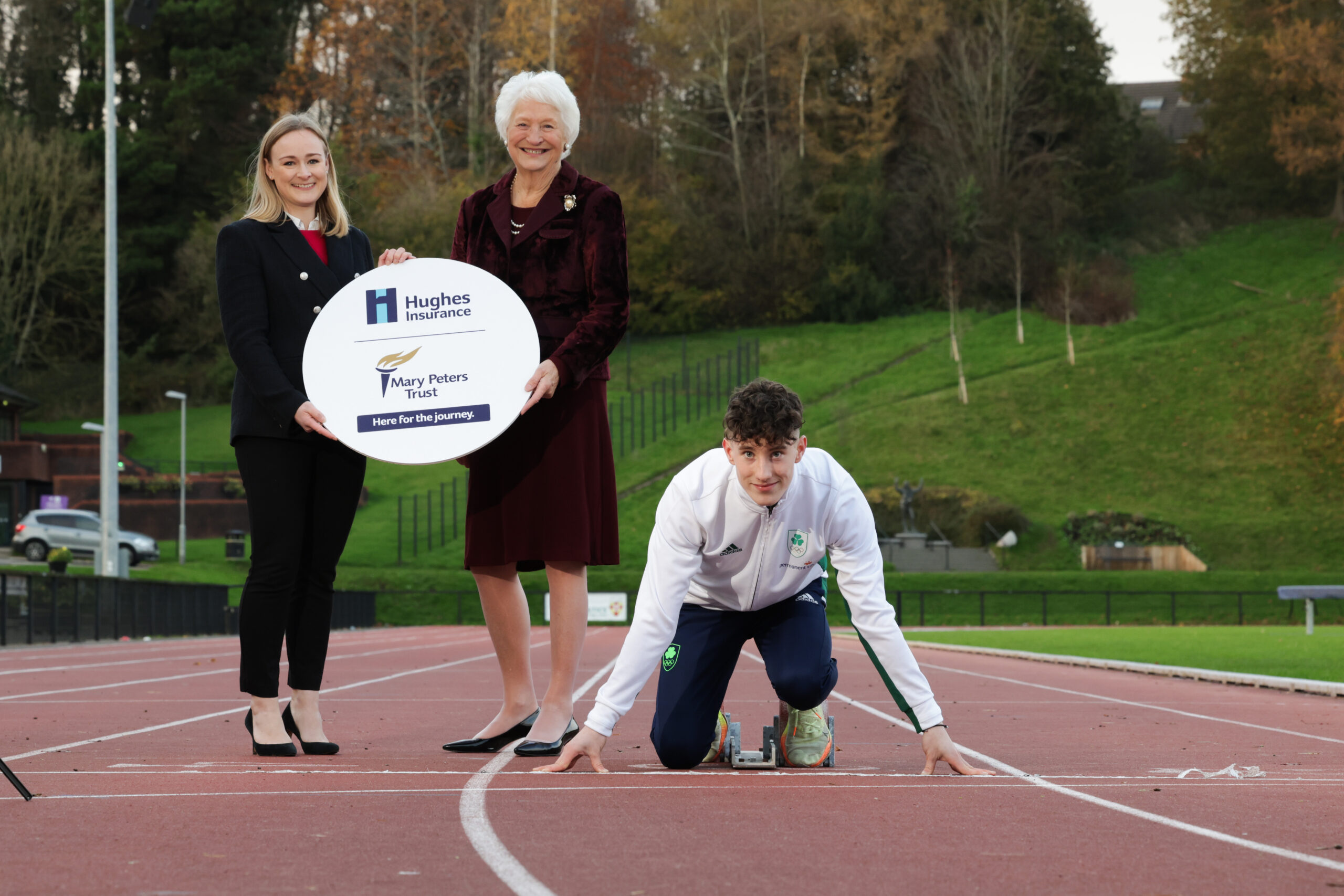 "I am so pleased that the Trust in partnership with Hughes Insurance is able to support his journey and we wish him all the best with qualifiers for the European Youth Olympic Festival 2023, a prestigious event and important platform for young people in athletics."
Toby who is currently studying his A-Levels has already overcome challenges and uncertainties in his sporting career, including regaining his motivation and speed following injury ahead the pandemic.
16-year-old Toby said: "Most athletes would agree that the last few years have been really challenging, I was unfortunate to sustain an injury ahead of the first lockdown which affected my training, and without a coach or the camaraderie from my athletics club it was difficult to motive myself and build back speed.
"Luckily, I've a really supportive family including my mum who is always pushing me to ensure I do the very best that I can. Although I lost some speed during lockdown, I was able to remain fit and healthy, which was key.
"2022 was an important year for me, getting stuck back into training and competing, and the bursary award from Hughes Insurance and Mary Peters Trust will help with costs for training and competing which will help grow my confidence as an athlete."
Toby is one of many passionate and promising young athletes in Northern Ireland at the beginning of their sporting journeys, striving to achieve greatness.
Harriet McCandless, Senior Marketing Manager at Hughes Insurance, said: "In partnering with the Mary Peters Trust, we have the ability to support young athletes from right across Northern Ireland. It means a lot to us as a community-focused organisation to help these talents go a little further in their journeys, particularly this year as they return to full training schedules and both national international competitions."
The Mary Peters Trust is the only province-wide organisation to provide support to young athletes from all recognised sports. Along with Hughes Insurance, it is also supported by Alchemy Technology Services, who this year became a podium partner to support the Trust's activities throughout 2022/23.
To keep up with selected athletes follow @hughesinsurance on social media.