Mary Peters Trust and Hughes Insurance award £500 bursary to 24-year-old canoeist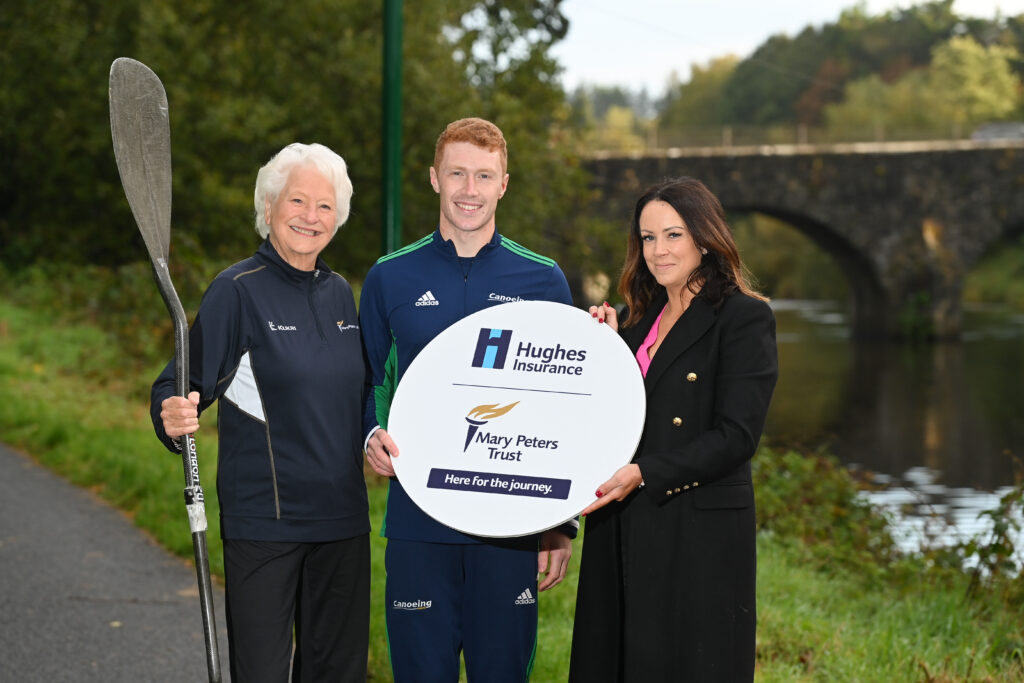 Hughes Insurance has announced that Alistair McCreery, a 24-year-old canoeist from Belfast, is the sixth athlete to have been awarded a £500 bursary as part of its ongoing partnership with the Mary Peters Trust. The £5,000 bursary programme is now in its second year and awards funding to ten young athletes from across Northern Ireland to support them on their sporting journey. Each of the ten athletes are selected by the Mary Peters Trust.
Alistair has been representing Ireland in canoe slalom since 2015. The sport calls on competitors to navigate a decked canoe or kayak through a course of downstream or upstream gates on river rapids in the fastest time possible.
Lady Mary Peters said: "Alistair has achieved so much already including progressing to the semi-finals at two ICF canoe slalom world cups. He is a fantastic ambassador for Northern Ireland and an inspiration to other young athletes. I'm proud that my Trust has been able to help him through our partnership with Hughes Insurance and wish Alistair every success as he prepares for the 2023 international season."
Inspired by the uniqueness of slalom canoeing, Alistair took up the sport in 2009 at the tender age of thirteen. He quickly progressed and has gone on to compete internationally, including at the World Championships in Augsburg this past July with 8000 spectators looking on.
This year marks 50 years since canoe slalom was first introduced to the Olympic program in Munich 1972, significant given that too is the year Lady Mary Peters brought home gold.
Commenting on his bursary, Alistair said: "It is an honour to be given this award and to become part of a group of athletes who have received awards and support from Lady Mary's Trust over the years such as Rory McIlroy and Paddy Barnes. I'm very grateful to Hughes Insurance for facilitating.
"Over the years I have developed so much love for my sport. I enjoy how different it is. It's fair to say that canoeing has not only changed my life but become my life, and it's been my vehicle to see the world taking me to Brazil, all over Europe and even India. It has allowed me to become part of a community of athletes around the globe and experience things that very few people get to."
Alistair plans to use the bursary to access training at world class facilities in Europe ahead of the 2023 season.
Alistair added: "For the remainder of 2022 I will be focusing on preparing for the year ahead, to qualify for and compete in the 2023 European games in Krakow and the 2024 Olympic qualifiers in London. The bursary will be a huge help in accessing the training I need to be at my very best and continue to do Northern Ireland proud."
The Mary Peters Trust is the only province-wide organisation to provide support to young athletes from all recognised sports and partnerships such as this bursary programme with Hughes Insurance are vital to its work.
Emma Haughian, Senior Marketing Manager at Hughes Insurance said: "Alistair is a shining example of the world class talent we have in Northern Ireland and how important it is for organisations to support their potential. The Mary Peters Trust is one such organisation that we are proud to continue to support. We look forward to seeing Alistair progress in his sport and wish him all the best for his 2023 International qualifiers."
The remaining bursary recipients will be announced throughout 2022. To keep up to date with the selection, follow Hughes Insurance on social media, @hughesinsuranceni. Along with Hughes Insurance, the Trust is also supported by Alchemy Technology Services, who this year became a 'podium partner'.